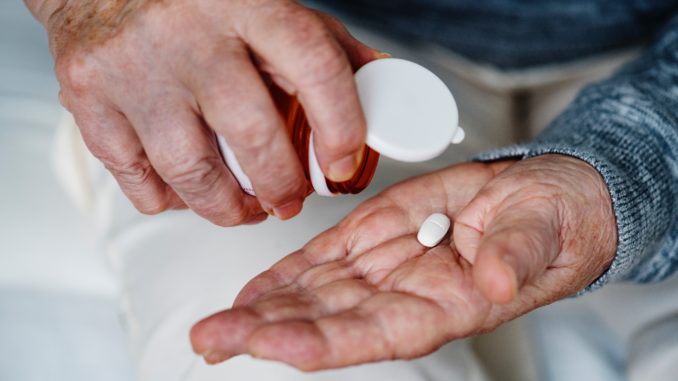 You cannot have failed to notice the flurry of reports in the media recently about the dangers of over-prescribing certain classes of drugs such as anti-depressants and pain killers. Health chiefs fear that hundreds of thousands of people in England are getting hooked on prescription drugs – and they are desperate to sort this issue out before it takes on the epic proportions currently being experienced in America, where thousands of people are known to have died.
As reported by BBC News, a recently published review undertaken by Public Health England (PHE) looked at the use of strong painkillers, antidepressants and sleeping tablets – prescription drugs that are used by a quarter of adults here every year. The review found that, at the end of March 2018, half of the people using these drugs had been on them for at least 12 months; PHE officials said long-term use on such a scale could not be justified and was a sign of patients becoming dependent; PHE medical director, Professor Paul Cosford, said he was worried.
"These medicines have many vital clinical uses, and can make a big difference to people's quality of life," he said, but he added there were too many cases where patients were using them for longer than 'clinically' appropriate – instances where these drugs would have simply stopped working effectively or where the risks could outweigh the benefits.
What drugs were reviewed?
Five classes of medicines were included in the review – asked for by government amid concern that large numbers of people were misusing prescription drugs. They were:
Antidepressants
Opioid painkillers for acute pain and injury (excluding use in cancer patients)
Gabapentinoids (used to treat epilepsy, anxiety and nerve-related pain)
Benzodiazepines (mostly prescribed for anxiety)
Z-drugs (sleeping tablets) 

Long-term use and dependency
To assess the levels of dependency, PHE officials analysed patient data to find out exactly how many people were taking these drugs outside of hospitals, and for how long. Half of the people who were using the drugs in March 2018 had been on them for a year or more, with about a quarter having used them for at least three years. Rates of prescribing were higher in deprived areas and among women.
How long each drug should be used varies:
Opioid-based painkillers should only be used for short periods so the fact that there were 1.2 million people on them for at least a year – 540,000 of whom had been taking them for at least three years – was extremely worrying, PHE said.
Antidepressants, by comparison, take some time to become fully effective so it is not surprising to find people using them for a long time; however, there were nearly 1 million people using them who had been on them for at least three years, which PHE said rang alarm bells. Officials said the scale of that long-term use suggested that those with mild-to-moderate depression may have become dependent on them.
In relation to the other drugs, there was only a minority of cases where long-term use was appropriate, PHE said.
Prof John Read, of the British Psychological Society, said the findings were 'alarming', while Health Secretary Matt Hancock said the report should act as a 'wake-up call'. "I refuse to let this escalate to the level seen in the US," he said.
PHE said it was not clear if this scale of long-term use of prescription drugs was causing harm – although each drug does have side-effects, including weight gain and placing stress on the heart, kidney and lungs. They said long-term use meant that tolerance could build up and treatments could stop being effective – or require patients to increase the doses they were taking – while any reduction in use could lead to withdrawal symptoms.
Long-term use can also lead to problems with memory and concentration, anxiety and depression.
According to government guidance, the recommended maximum time for which benzodiazepines should be prescribed is four weeks, to reduce the risk of dependency; benzodiazepines – taken for severe anxiety, insomnia and sometimes pain relief – are a particular concern.
GPs in the dock?
GPs prescribe these drugs and stand accused of not keeping good enough track of how long patients have been taking them for. Hard-pressed as they are, it's hardly surprising if GPs don't prioritise this issue as part of their 10-minute appointments – and patients are often happiest when they leave the surgery clutching their repeat prescription – it's easier said than done to reduce prescribing in this area.
Professor Helen Stokes-Lampard, of the Royal College of GPs, said doctors did not like prescribing medication long-term, but were sometimes left with no choice. "What it indicates is the severe lack of alternatives," she said. Professor Cosford agreed. "We need to make sure people are helped to access alternative treatments," he said.
NHS England said investment is being made in services such as talking therapies and so-called 'social prescribing' – which includes exercise classes and arts-based activities – that could be more appropriate. Until this investment starts to make itself felt, these alternatives to drug-based solutions simply don't exist in great enough numbers to offer a viable alternative.
Practice managers can help GPs gain an awareness of their current prescribing practices in this area by monitoring and pulling together the data on this and, as multi-disciplinary teams become the norm, community and practice-based pharmacists can also get involved in this issue via targeted medicines' reviews.
Don't forget to follow us on Twitter, or connect with us on LinkedIn!