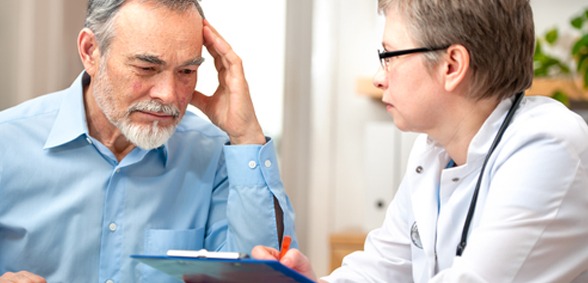 Credit: This story was first seen on The Daily Mail
GPs are failing to diagnose patients with early dementia despite a major government drive to improve detection rates, research shows.
Experts say there is a reluctance amongst doctors to tell patients they have the disease as 'nothing can be done,' The Daily Mail reports.
Other GPs are thought to be sending patients away telling them their symptoms are nothing to worry about, and a normal part of growing old.
But the findings by University College London academics are particularly worrying as ministers are trying improve early diagnosis rates as part of a key strategy to make dementia a 'national priority.' 
Launched under David Cameron in 2012, the Dementia Challenge aims to detect the illness as promptly as possible to enable patients to be offered drugs to slow the progression.
The government has also doubled its research funding to £66m a year in the hope of finding a cure for dementia by 2025.
In the first study of its kind, researchers assessed whether encouraging patients to see their GP with early symptoms improved diagnosis rates.
They looked at 14,558 patients at 22 GP surgeries based in North and East London, Hertfordshire and Essex.
Half of practices sent leaflets and personal letters to all patients over 70 urging them to see their GP if they had any confusion or forgetfulness.
Surprisingly although this resulted in many more patients booking appointments, it did not improve GPs' diagnosis rates.
Researchers believe that many of these patients were sent away by doctors who either dismissed their symptoms or believed a diagnosis was pointless.
Professor Gill Livingstone, the psychiatrist who led the study, said she was surprised at how many families were struggling to get a diagnosis.
There are an estimated 850,000 adults in the UK living with dementia but as many as one third have never been diagnosed.
This is expected to rise to one million adults by 2025 and two million by 2050, with the increase driven by the aging population.
Professor Livingstone – whose study is published in the journal PLOS Medicine – said: "What I suspect is going on is that patients were coming forward at an earlier stage but GPs didn't change their practice. We think there are three different reasons. There are some GPs – only a minority – who think that if dementia isn't curable then its not worth knowing about. But diabetes can't be cured, yet we don't stop treating it. Others think patients don't want to be told they have dementia. But an early diagnosis has so many benefits."
She said the third reason was that waiting times for memory clinics which diagnose the illness were too long – so GPs thought it wasn't worthwhile even referring them.
But she stressed there were 'so many benefits' to diagnosing the disease early.
Patients can be given drugs which can control some symptoms and temporarily halt the decline in memory loss. It can also enable families to plan for the future and arrange extra support for their loved ones.
Patients with the early symptoms can be extremely vulnerable as they have to write their pin numbers down or may leave hobs on posing a fire risk, she said.
Dr Matthew Norton, director of policy at Alzheimer's Research UK, said: "It is disappointing that this trial did not achieve the results the researchers hoped for, and it will be important for future studies to explore alternative approaches to improving timely diagnosis. These results suggest that to increase timely diagnosis, both GPs and patients may need targeting with information about dementia and the importance of a diagnosis.
"We know how challenging it is to diagnose dementia, particularly as the symptoms overlap with other health conditions, and research is crucial to improve diagnosis. We must continue raising awareness and investing in research if we are to offer doctors better tools to make an accurate diagnosis of dementia, and make a difference to people's lives."
Dr James Pickett, head of research at Alzheimer's Society, said: "It's positive to see that encouraging patients worried about their memory to visit their GP actually does empower them to do so. Unfortunately the study doesn't tell us why GPs did not refer more people for further investigation. GP practices and memory clinics need to work collaboratively to ensure people with complex cases are referred where necessary.
"A timely diagnosis is extremely important so people with dementia can access the right information, support and treatments, and begin to plan for the future."
In 2014 the NHS launched a controversial scheme whereby GPs were given £55 for every new case of dementia picked up, to improve diagnosis rates. But this was scrapped the following year after campaigners condemned it as unethical.
Dementia detection rates have improved since the start of the government's strategy and around two thirds of patients are now diagnosed. But the majority only find out they have the illness in the moderate or advanced stage, when very little can be done.
If diagnosed early, patients can be offered drugs such as Aricept or Exiba which can temporarily slow its progression.