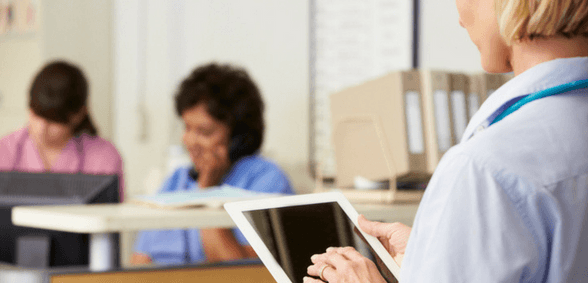 NHS Fylde and Wyre CCG receptionists trained to assess patients' needs to alleviate pressures on GPs
GP receptionists in Fylde and Wyre have been trained to assess patients' needs by asking for some basic information about why they are calling, to make sure they get the right appointment or treatment. 
This may not necessarily be with a GP but could be a practice nurse, health care assistant or community pharmacist. Alternatively, they may be offered a consultation over the phone, or advised to visit a walk in centre. 
The system helps identify emergencies and very poorly patients sooner so they can be seen more quickly by the on-call GP rather than waiting for an appointment. It also makes sure practices make the best use of the skills available as not all problems need the skills of a qualified GP.
Practices are also required to have a recorded message of one of their GPs explaining why the person answering the call will ask for details and how this is of benefit to them and the practice.
NHS Fylde and Wyre Clinical Commissioning Group (CCG) introduced the requirement for practices to make sure GP time is used to concentrate on the most poorly and make sure patients receive the best possible care in the right place.
Fleetwood GP Dr Adam Janjua, who is also deputy chair of the CCG, said: "In partnership with the CCG, practices across Fylde and Wyre have agreed to train staff to be that first port of call for patients.
"This is great news for patients because the receptionist will make sure they are able to get the right advice or support for their individual needs.
"We need people to understand that when the person who answers the phone at their GP practice asks why they are calling they are not being nosey. This is for a very good reason and will make sure they get the best possible care for their situation."
Some practices have even created specific 'healthcare navigator' or 'patient advisor' roles. This person is dedicated solely to ensuring patients are seen by the right person, in the right place at the right time.
The Thornton Practice in Church Road, Thornton-Cleveleys, was one of the first to recruit to a number of 'patient advisor' roles.
Practice manager Amy Sissons said: "Our Patient Participation Group assisted in the development of the role and when asking fellow patients for feedback the consensus has been that patients are very accepting of our patient advisers and understand what we are trying to do.
"It has been going really well and the feedback has been positive so far. Our patients are quite happy to use other services that are not always based within the practice where it is appropriate. However we want to reassure patients that the systems in place ensure where it is clinically appropriate patients will get to see a GP."
Don't forget to follow us on Twitter, or connect with us on LinkedIn!