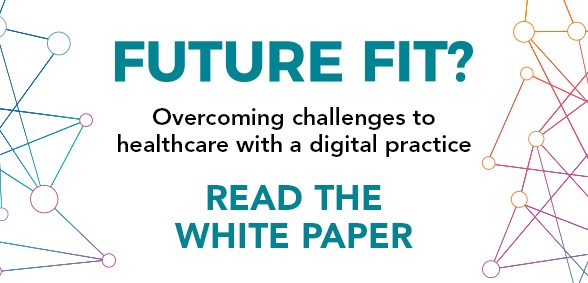 The NHS is getting serious about technology. There are a number of tech initiatives already underway – and more about to hit. What do GP practices really need, and how ready are they to embrace tech, and all the benefits it can bring? What's getting in their way? We decided to find out.
In conjunction with our partner, business technology solutions' provider Brother UK, Practice Business consulted practice managers, and other healthcare providers, to identify what the real barriers to change in general practice are because, if the sector can understand these, it can find solutions to overcome them. In this, the first in a series of six reports, we give you an overview of what we discovered
General practice is faced with a very real challenge: delivering healthcare to a growing – and ageing – population with more complex needs and higher expectations, coupled with a finite pool of resources. The weight of this challenge is being felt right across the NHS; those working in the sector consistently report their fears that workload pressures are becoming unmanageable and administrative tasks are taking over.
To overcome these challenges, new models of care and modes of operation are being developed. NHS service providers are increasingly looking to technology to support these new models and, at GP practice level, technology is gaining traction as a possible way to streamline the delivery of healthcare. This is backed and promoted by government – as illustrated by recent investment, and health secretary Matt Hancock's own 'tech-vision' for the NHS, which he outlined in autumn 2018.
There is much discussion of what the key 'pinch points' actually are – with many opinions as to what is needed to move forward along the digital pathway – but what are the actual issues, based on evidence?
In conjunction with our partner, business technology solutions' provider Brother UK, Practice Business set out to identify what the real barriers to change in general practice are because, if the sector can understand these, it can find solutions to overcome them.
In our white paper Future fit? Overcoming challenges to healthcare with a digital-first practice we identify the obstacles faced by GP practices, investigate the IT solutions being developed in response and explore the need for investment in technology and infrastructure at practice level.
A demanding situation
Patient demand is increasing. In 2016, The King's Fund published Understanding pressures in general practice in which the authors reported that GPs were dealing with a rising workload, that this workload was becoming increasingly complex and intense and, at the same time, that funding was not growing in line with demand.
These factors are being exacerbated by a shortage of NHS GPs – in part the result of fewer practitioners undertaking full-time clinical work, but also due to large numbers retiring or leaving the profession altogether. While visions for a paperless NHS have proved premature, there remains a strong case for document management; digitising patient records, for example, is one way that healthcare practitioners see efficiencies being made.
The King's Fund report, Digital change in health and social care (2018), notes that technology can improve quality, efficiency and patient experience in healthcare, as well as supporting more integrated care to the benefit of the health of a population. In fact, most research will back the potential that technology has to enhance and support healthcare services. However, it must be acknowledged that barriers to digital transformation exist.
The challenge now is to identify how to effectively implement technology solutions to overcome these barriers.
Alleviating pressures
This study found that patient demand is, unsurprisingly, one of the key challenges general practice faces, and that this is having a predictable effect in terms of workload pressures; it is also a key driver in the adoption of technology. Our research makes clear that technology is widely viewed as a means of alleviating practice pressures – realising operational efficiency, improving patient access to healthcare and enhancing the overall patient experience. Furthermore, while there remain some uncertainties about technology, and its adoption in general practice, GPs and their teams are digitally innovating – albeit cautiously.
An already stretched primary care sector will certainly require tangible support if it is to be able to take some of the strain from the hospital sector. The government's Digital Transformation Programme (DTP) is Intended to provide this support; it aims to remove a massive workload burden from GPs and, in turn, front-of-house practice staff.
Managed print services (MPS), scan technology and other efficiency-focused solutions have emerged as 'must haves' in a sector seeking to streamline processes, print smarter, realise efficiencies and improve patient experience. According to industry research managed print services (MPS), for example, can lower print-related operating and IT costs by as much as 30%.
Behind the scenes
Things are changing digitally behind the scenes. Since January 1, 2018, there has been a requirement that practices are wifi-enabled throughout and, in addition to administrative areas, nearly every consulting room will now have a printer.. This additional capacity means that MPS are already delivering tangible benefits for GP practices across the country;
Online document workflow and capture solutions are becoming increasingly important in streamlining GP practice admin processes. The scanning of paper documents, which can then be more easily managed and shared, is also a growing trend. Modern scanners allow users to create searchable PDFs in seconds which can be archived and retrieved much more quickly than paper documents. Security is an additional benefit that comes with this move to new technology.
Respondents in our survey identified technology that is not fit-for-purpose as a key contributor to increasing workloads. Digital change in health and social care argues that this is a facet of implementation, and whether the right checks are in place to ensure the IT across the NHS actually works. This is very important at the individual practice level, and established providers understand this.
Practice managers certainly need to ensure that the technology they are operating is fit-for-purpose and will 'speak' to other devices within the practice and beyond.
Fit for the future?
Ensuring a sustainable future for the NHS is about future-proofing; only in this way can technology purchases be truly cost-effective. In relation to printer procurement, wifi enables printing via the cloud. Similarly, cloud solutions will be essential to practices seeking to adopt the technologies that will pave the way for new efficiencies.
There has been a shift towards digital in the healthcare sector – one that is reflective of a wider digital shift in society as a whole. The NHS is rising to patient demands – the number and complexity of their needs, as well as their rising expectations; technology is central to meeting these aspirations.
Our joint Investigation provides sound evidence of a willingness among practice staff to embrace new technologies which work and are proven to make their lives, and those of their patients, easier. Brother UK believes that managed services for new hardware and existing solutions are the way forward.
Up next: Part 2 – HOW DID WE GET HERE? THE CURRENT STATE of the SECTOR
You can read the full report HERE
Or contact the Practice Business team or our partner Brother to share your views.