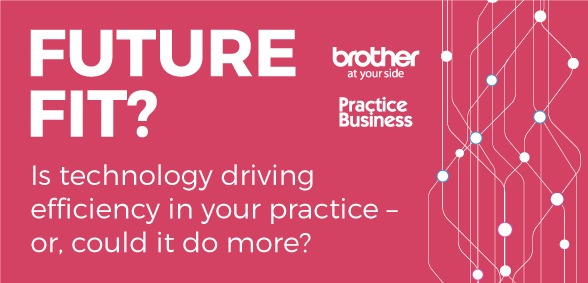 GP practices have, so far, led the way in patient-facing technology; consider the move from paper to digital patient record-keeping and the offering of online-access for patients to elements of their GP-held records. However, we are at a pivotal point in the digital transformation and need to establish the next steps to realising a more efficient, tech-led service
To ascertain this, we're undertaking research into digital transformation in general practice with our partner Brother UK; together, we want to establish the challenges and obstacles faced by practices when it comes to implementing digital-first systems and to better understand how practices can improve efficiency, save time and reduce workload through technology.
To do this successfully, we need your insight and experiences so, please spare just a few short minutes to TAKE OUR SURVEY to help us with our research and be in with a chance to win an iPad mini 4! 
Realising a digital-first future
There's no doubt the future of the NHS will be technology-led – the digital transformation is already well underway. Health secretary Matt Hancock has, in his short time as secretary of state for health and social care, committed to a £487m technology investment in the NHS. While this may seem like a drop in the ocean, it reflects a wider commitment to an NHS-wide, digital-first system.
Powerful Patients, Paperless Systems; how technology can renew the NHS sets out the government's aim to make the NHS paperless and wholly digital – calling for pagers, fax machines and paper records to be replaced by integrated digital systems. The vision is to provide patients and healthcare organisations with the latest medical data that can be easily stored and shared between GP surgeries, hospitals and other care providers.
In a sector managing with stretched resources, it's critical that time is taken back and it's clear such efficiencies can only be realised through digital transformation – or, more specifically, the application of good technology. As outlined in the paper Powerful Patients, Paperless Systems, an integrated, fully-digital healthcare system can ease the pressures currently faced by eradicating cumbersome paper, streamlining processes and even reducing missed appointments.
Take a moment to shape research into health tech
In an ideal world digital-first practices would be immediately embraced but, in the real world, resource limitations, ingrained working practices and legacy systems make a simple switch seem anything from unlikely to impossible.
Here at Practice Business HQ, we want to learn what the real pinch points to change at practice level are – if the sector can understand these, it can find solutions to overcome them.
Your insights and your experiences are essential to this and we'd love to hear from you!
Your insights and experiences are essential to this so we're very keen to have your input via our short, online survey (it will take no more than a few minutes!) to help us with our research. We know how busy you are, so as a thank you for sparing a few minutes of your day, every respondent will be entered into a draw to win an iPad mini 4!
In addition, if you have a specific technology experience – positive, or otherwise – that you would like to share, we'd love to hear from you. Please get in touch via email HERE.
Brother UK has been a leader in technology innovation for healthcare for many years and is a key stakeholder in the primary care sector. They share our passion for supporting the sector with knowledge and insights and, of course, fantastic technology solutions.