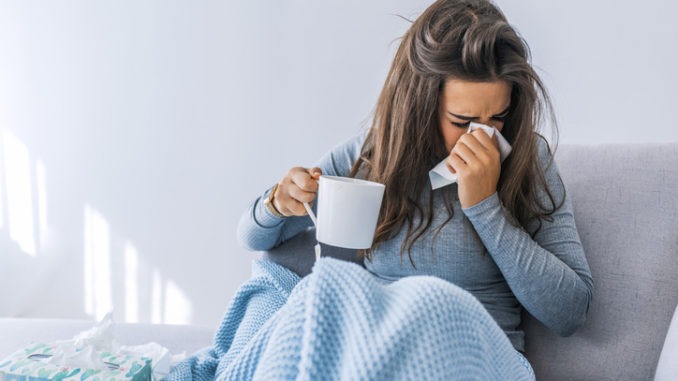 As reported by BBC news, a "remarkable" suppression of seasonal flu has seen only 18 cases recorded in Wales this winter, with no confirmed cases in the most recent week of data
This compares with 1,657 recorded cases last winter, the largest year-on-year drop ever recorded. Catherine Moore of Public Health Wales said measures to slow the spread of COVID had led to levels of flu in winter she had never seen before. But she said it could mean "slightly more severe" flu cases next winter.
Public Health Wales has said the flu virus is not currently circulating in Wales. COVID restrictions have been in place for most of the typical flu season, with strict limits on social contact in place. Across a five-year average, flu has been the third-highest cause of death in Wales during winter months. However four out of the 11 leading causes of death are significantly lower than the five-year average.
In February 2021 flu and pneumonia were the ninth-highest causes of death, 73.2% lower than the five-year average. The consultation rate for flu-like illnesses per 100,000 of the population hit a peak of 1.5 in early December.
In 2019-2020, that rate hit a high of just under 40 consultations per 100,000 over the Christmas period. Last winter, the level of flu circulating in Wales was seen as "medium intensity" – this winter has not even come close to meeting the threshold for "low intensity".
Consultant virologist Dr Moore said: "Any mitigation factor that we know reduces the transmission of a virus with a high transmissibility rate is likely to have a huge impact on a virus with a lower transmissibility rate.
"So people not moving around, people hand washing, all of the distancing, face cover wearing, all of that has a huge impact on viruses that perhaps don't transmit as well as the Sars-Cov-2 virus.
"The only time we see [figures this low] is in the summer months, when the virus is known not to be circulating.
"To see this level of suppression is remarkable, I've never seen something like this in my entire career working with influenza."
Dr Moore, who was appointed MBE for her work early on in the COVID-19 pandemic, said there were concerns the next flu season could be worse as a result of the lack of transmission this year.
This is because a large proportion of the population does not receive a flu jab, and the circulation of the most current strains of flu acts as a boost going into the next season.
"Immunisation is adding a boost for vulnerable groups, but a vast majority of workers don't have the immunisation, so we rely a little bit on that boosting effect to support them going into the next winter," she said.
"You will be boosted by the most current circulating virus, so if it's changed a little bit you'll have that boost to recognise the tiny changes which have happened in the virus during that year.
"We've completely missed a season, so the virus might have moved on a little further more than our immune system will remember.
"There is a potential there that we could being seeing slightly more severe flu than we would normally expect to see."
The flu vaccine uptake in Wales was the highest on record this year, with 76.5% of over-65s receiving the jab.
Last year saw 69.4% of over-65s vaccinated, the highest number on record at the time.
An issue for medical professionals now is knowing what to include in the flu jab for next winter as, due to the lack of cases this winter, there is very little information on which strains have been circulating.
Nathan Sznerch, a GP in Wrexham, said COVID measures had made people more aware of hygiene measures and keeping a distance.
"We've certainly seen a reduction in the amount of people contacting us [for flu]. I think people are far more aware of the importance of hand hygiene, and wearing masks.
"All the measures we've utilised to reduce the transmission of Covid-19 have resulted in less flu transmission."