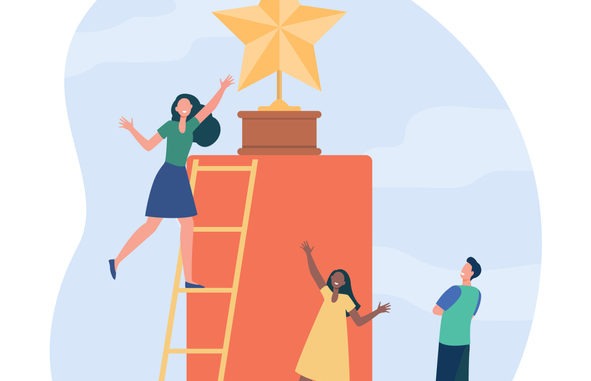 In these challenging times, where we cling on to every snippet of good news that comes our way, it is nice to spread the love around and give someone some well-earned recognition. The PMA has just the way you can spread love to your practice colleagues
We all know at least one person who has gone above and beyond the call of duty – so why not nominate a primary care colleague for an award?
The PMA launched its awards for 2021 and is inviting nominations for a range of accolades celebrating excellence in management across all areas of the health and social care sector. If you have never nominated anyone for an award before, now is the time! Here are five good reasons to start nominating.
1. It's a morale boost
Because they're worth it. It is so nice to feel appreciated and, let's face it, those of us in the health and care sector deserve some serious gratitude after the last year and a half! What a rollercoaster it has been. Receiving a well-earned award – or an acknowledgement of a nomination – will give your colleague a real morale boost, as well as showing the whole practice in a good light. A nomination from your boss, your peers or your team is a pretty satisfying feeling. If you're shrewd, you could nominate your boss – this could definitely pay off in time to come! And, get this – you can even nominate yourself, and why not? You know exactly how hard you've worked!
2. Open to all – there are categories for all team members
There are seven categories that you can nominate someone for, including Practice Manager of the Year and Practice Business Manager of the Year – and it's okay to nominate in more than one category. The other categories are Administration/Reception Manager of the Year, Receptionist of the Year and Outstanding Contribution to General Practice.
The Lifetime Achievement Award 2021 seeks to recognise outstanding contributions to the health and care sector over a career in practice and or business management. Somebody who has inspired you in primary care, who continues to mentor you or is the source of inspiration…we all know somebody who continually inspires us!
The winner and the highly recommended will be those who have demonstrated exceptional commitment to their role.
3. It's great to sing about unsung heroes
Many of us enjoy watching the Oscars and, while we can't compete with the Hollywood glitz (and goody bags!), we know our potential award winners are just as deserving for the blood, sweat and tears that contributes to their average day in primary care. Recognition is great! And it shows your colleagues and patients just how much you care.
4. It's motivational
Practice business manager and PMA Members' Council chair Tracy Dell was awarded the prestigious NAPC Practice Manager of the Year Award back in 2019. With more than 20 years' healthcare management experience in general practice, primary care, secondary care and the voluntary sector – she is someone who always goes the extra mile.
"I was delighted to receive the award and it gave me the motivation to really push myself and inspire the team around me," said Tracy. "I still feel immensely proud and it's nice to see the award on display when I'm having a difficult day.
"We don't celebrate our success in general practice enough – and we should!"
5. It's free to nominate
It is free to nominate and you can nominate several people if you wish, and for more than one category! And fear not – nobody will be flogged a tickets to a fancy black-tie event. Winners will, however, be invited to an awards presentation, which will take place at the Best Practice Conference at NEC Birmingham on 13th October 2021 – and this will also be broadcast via the internet.
The deadline for nominations is September 27th 2021, and shortlists will be announced on September 30th.
To nominate in the PMA Awards 2021, visit here.