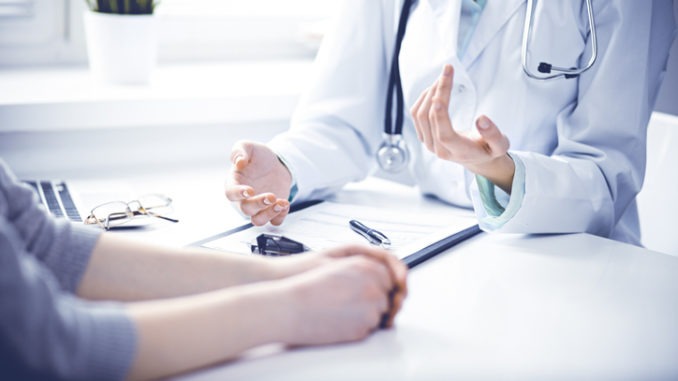 As reported by the Basingstoke Gazette, north Hampshire GPs delivered a higher rate of face-to-face appointments in August, figures show, but patients were still much less likely to see their doctor than in the same period last year
The Royal College of GPs said it does not want to see general practice become "totally, or even mostly" remote after the pandemic, but warned it is still necessary to stop the spread of COVID-19 as the country prepares for a predicted second wave.
NHS Digital data shows patients booked 77,448 appointments with practices in the NHS North Hampshire Clinical Commissioning Group (CCG) area in August – 42% of which involved a face-to-face meeting. This was up from ​38% in July, but still well below 69% in the same month last year.
It was a similar picture across England as a whole, where just over half the appointments made in August were face-to-face – down from 81% a year earlier. Professor Martin Marshall, chair of the Royal College of GPs, said GPs "have done everything they've needed to do" to curb the spread of the virus and ensure the safety of patients and staff.
"We understand that some patients prefer the face-to-face personalised service that they are used to – and that many GPs also prefer this way of consulting," he said
"However, the challenge of infection control isn't going away and there has been a rapid rise in the number of people testing positive for COVID.
"When remote consultations have been unsuitable – such as for vaccinations or when a physical examination is required – face to face consultations have been arranged, and will continue to be."
His comments came in response to recent polling by JL Partners for the Daily Mail, which suggests a third of people who needed a face-to-face appointment between April 1 and September 24 were not able to get one.
The figures, based on 1,004 responses to an online survey, also show a quarter of people were "very concerned" that a video or telephone consultation would not be as thorough as a face-to-face appointment, potentially leading to missed symptoms.
Earlier this month, the NHS sent a letter to all GP practices in England reminding them to ensure patients could access face-to-face appointments if they needed to as the crisis continued.
Chair of the British Medical Association, Dr Chaand Nagpaul, said it was an "affront" to suggest GPs had failed to do so.
"GPs, like hospital doctors, have worked flat out providing millions of appointments, including face-to-face, throughout the pandemic" he said.
Overall, around 20.1 million GP appointments of all types took place across England in August, down from 22.4 million in July.
In north Hampshire, appointments fell by 8,950 over the period.