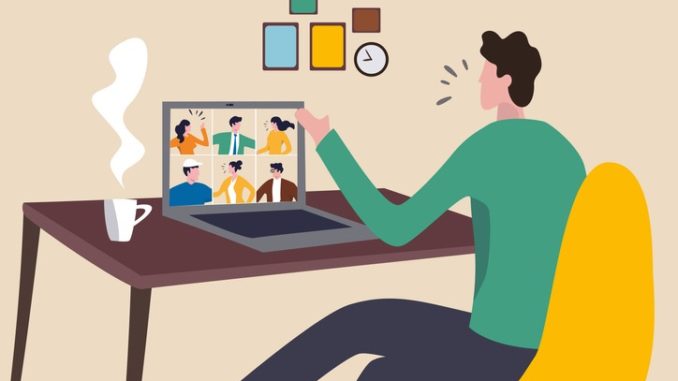 NHS Employers has released guidance on how to support remote working
Employers should enable and support their staff to work from home wherever possible, as per PHE guidance; enabling home working is one way employers can reduce the risk of infection to their wider workforce, and patients, while maintaining core functions. Home working should also be utilised to support staff from 'at-risk' groups to continue working while minimising social contact.
Practical considerations
Many administrative functions will be suitable for home working, as well as some primary care and outpatient-facing roles which may be able to undertake clinical consultations remotely. Organisations should work with managers, trade unions, occupational health, and health and safety teams to identify specific roles or tasks which are suitable for home working. Employers may wish to consider redeploying staff from 'at-risk' groups to work in roles which are more suitable for home working than their substantive role.
Employers still have a duty of care to employees when working from home, including ensuring appropriate health and safety arrangements. However, the usual health and safety assessments may be impractical at short notice so, in the absence of this, employers should provide employees with detailed guidance and advice. The Health and Safety Executive provides guidance on risk assessments for home workers, including a checklist for display screen equipment.
Where possible, employees should have suitable equipment and a dedicated work space if working from home, including:
IT equipment to enable them to undertake elements of their role; the organisation should provide this where possible;
software which enables remote working; for example, including video calls or collaborative document editing;
a space which is suitable for the work they need to undertake, including furniture and a quiet, confidential space if speaking to patients or colleagues.
Due to the exceptional circumstances the NHS is working under, the ideal setup may not be practicable at short notice. However, organisations should still enable employees to work from home even in these situations.
Line managers should agree the flexibility of working hours, and availability of staff working at home, taking into account each person's individual personal circumstances including caring or childcare responsibilities.
Supporting employees' wellbeing when working from home
To support the wellbeing of employees who are working from home, employers should:
ensure line managers maintain regular contact and communication with their teams, through 'phone calls or virtual meetings;
encourage line managers to discuss the caring or childcare responsibilities of employees and adapt the duties and/or working hours of home workers to accommodate these;
provide home workers with regular updates and communications in line with the rest of the workforce, for example through staff newsletters or enabling dial-in for all staff briefings;
give employees information about the support available to them during their period of time working from home.
It is also helpful to provide support and tips on what staff can do to maintain their own wellbeing while working from home, including considering:
establishing a routine, including a start and end time to your work, as agreed with your manager;
discussing home working arrangements with family or the other people you live with and try to establish boundaries so you can work uninterrupted;
maintaining a healthy lifestyle, good nutrition and plenty of sleep;
taking a lunch break;
staying connected with other colleagues;
taking regular breaks throughout the day to get away from your screen/desk;
staying active, either by taking a walk (if not self-isolated) or doing simple stretches and exercise at home.
Supporting staff suffering domestic abuse or violence
Some members of staff may be at greater risk of suffering domestic abuse or violence due to home working or household self-isolation. Domestic abuse can affect anyone, regardless of age, disability, ethnicity, gender, sexual orientation, occupation, religion or social status, including our NHS staff. NHS organisations should recognise the serious adverse effects that domestic abuse or violence can have on both the home and working lives of staff.
Domestic abuse or domestic violence, is defined as any incident of controlling, coercive or threatening behaviour, violence or abuse between those aged 16 or over who are or have been intimate partners or family members, regardless of their gender or sexuality.
It should be noted that domestic abuse or violence happens to both men and women. Research shows women are more likely to suffer more serious injury and ongoing assaults than men. However, it should be acknowledged that men can experience domestic abuse from their female partner and that domestic abuse also occurs in same-sex relationships.
It is believed both men and women are particularly at risk of honour-based abuse or forced marriage during this period. Disabled women are twice as likely to suffer domestic abuse than non-disabled women.
Employers have a duty of care to the people they employ and legal obligation to assess any risk and support the health and safety of their employees. NHS organisations should already have a clear pathway for staff at risk of domestic violence to confidentially seek support. In addition, employers could also explore the use of hotel accommodation for those who are at risk or worried about domestic violence or signpost to refuge support services providing temporary accommodation for those fleeing abuse.
Line managers should seek to support staff by discussing individual circumstances so appropriate support and actions can be taken accordingly. It is important to remember the staff member knows their personal circumstances better than anyone, so it is important to respect their wishes and do what you can to support them.
Employers should ensure line managers are aware of the signs of domestic violence and the potential risk that staff may face during the COVID-19 pandemic and can signpost to available support including:
If someone is in immediate danger, they should always call 999 in an emergency. If they are unable to speak while on the 'phone, they should use the 'silent solution' system by pressing 55 where the operator will transfer the call to the relevant police force.
For information, help and support, call the free 24-hour National Domestic Abuse Helpline run by Refuge on 0808 2000 247 or visit www.nationalhelpline.org.uk if it is not safe to 'phone.
COVID-19 Safety Advice for Survivors from Women's Aid, including their survivors' forum, live chat and email services.
Rape Crisis resources for survivors of sexual violence.
Men's advice line on 0808 801 0327 for those males suffering domestic abuse or violence.
National LGBT+ Domestic Abuse Helpline on 0800 999 5428
Save Lives for supporting disabled people at risk of domestic abuse.
Karma Nirvana for supporting victims of honour-based abuse and forced marriage.
Crown Prosecution Service for crime information and guidance on domestic abuse.
Respect helpline on 0808 802 0321 for anyone worried about their own behaviour.
For further support, please see our guidance to support employers in developing a local domestic violence and abuse policy and additional sources of support for staff.
Don't forget to follow us on Twitter, or connect with us on LinkedIn!