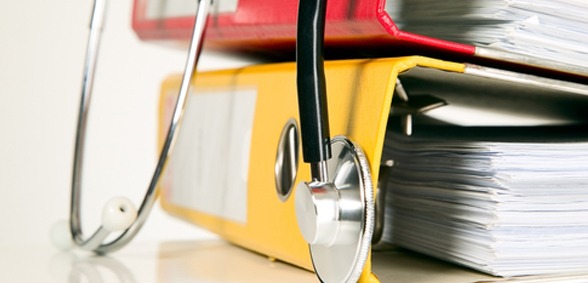 CREDIT: This story was first seen in BMA News
GPs have urged NHS England to address its poor progress in fixing flaws in the back-office support service it contracted out to Capita more than two years ago, BMA News writes.
BMA GPs committee chair Richard Vautrey, in a letter to NHS England chief executive Simon Stevens, says there are a 'significant number of ongoing issues' with PCSE (Primary Care Services England), which he says are causing risk and distress to patients.
'GPC is contacted daily by local medical committees, practices and individuals who are experiencing issues with PCSE and are unable to reach resolution through communicating directly with them,' the letter says.
'We are hearing of cases where GPs have suffered large financial losses due to systematic failings of the services provided by Capita.
This week's letter is the latest in a long line of interventions by the BMA and local medical committees, since problems with the service began to emerge.
Derby and Derbyshire LMC last month wrote to NHS England's director of primary care Dominic Hardy saying the number of 'unacceptable' concerns about the contract were 'legion'.
The LMC had been told by NHS officials that they had 'no expectation of any substantive rectification of any service this year', the letter adds.
Despite this sustained pressure to improve, GPs are still encountering multiple problems with the service. Those listed in Dr Vautrey's letter include:
Significant delays and faulty processes in registering and removing patients, including those who are violent and pose risks to the safety of staff and patients
Delays in the transit of medical records and instances of them going missing
GPs missing from 'performer lists' of those suitably qualified for work in the NHS, leaving those left off unable to work, in one case for 12 weeks
Significant issues with the processing of pension contributions, risking a serious long-term effect on doctors' retirement funds
Failure to pay training grants, forcing practices to pay junior doctors out of their own overstretched budgets.
'No confidence'
Dr Vautrey's letter also flags serious concerns with the cervical screening, and GP payment and pension systems, new responsibilities which Capita is due to take on from next July.
'We are very concerned that preparations are not sufficiently advanced at this stage of the projects to guarantee a seamless transfer to the new service,' his letter states.
'We have no confidence in Capita's ability to deliver this service, the consequences of failings will be very serious for practices, potentially affecting their viability.'
With so many issues persisting since the Capita contract began it was 'unacceptable that more progress has not been made to getting these resolved', Dr Vautrey's letter adds.
BMA GPs committee executive member Krishna Kasaraneni said: 'PCSE services remain far below the standards the public should expect.'
'Patient care and safety continues to be damaged by delays in the transfer of medical records and the removal of violent patients from practice lists.'
He added: 'This combination of flaws is placing further strain on overstretched GP practices and more needs to be done to ensure PSCE is delivering a service that enables GPs to get on with the job of providing care to patients.'
An NHS England spokesperson said: 'We are holding Capita's "feet to the fire" on needed improvements, and in the meantime, the lead employer for Health Education England or the GP practice are responsible for paying their GP trainee salaries and are subsequently reimbursed for this. Backlogs are being prioritised by Capita.'
A Capita spokesperson said: 'This is a major transformation project to modernise a localised and unstandardised service, which inevitably has meant some challenges. We have made significant investment to deliver improvements and these have been recognised by NHS England and demonstrated through improved service performance and improved customer satisfaction. We are continuing to transform locally managed operations into a modern and efficient national customer-focused service for NHS England and all primary care organisations.'
GPC members are due to meet NHS officials next week to press for better progress in fixing the flaws with PCSE.
A motion is scheduled at the BMA local medical committees conference next week that will see doctors debate issues surrounding Capita's performance.
Read more about the BMA GPs committee's work on the Capita contract
Don't forget to follow us on Twitter, or connect with us on LinkedIn!