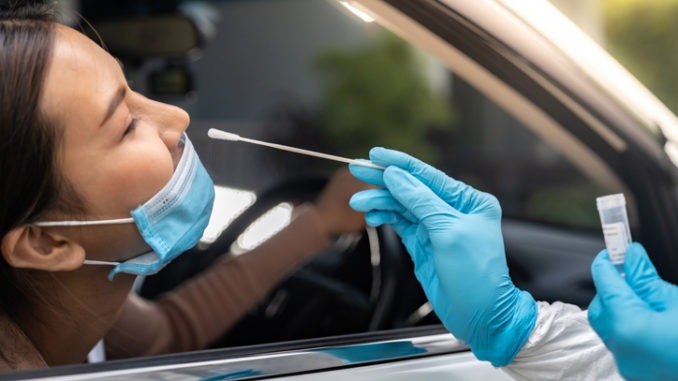 As reported by BBC news, coronavirus cases in the UK have risen above 30,000 for first time since January, official figures show
Wednesday's data showed there had been a further 32,548 confirmed COVID cases. And there were another 33 deaths reported within 28 days of a positive COVID test. It comes as Boris Johnson has defended the government's approach to easing England's lockdown, saying the link between infection and serious disease and death has been "severed".
The prime minister has pledged to scrap most of England's coronavirus regulations at step four of the roadmap out of lockdown, expected on 19 July. It means the government is now braced for a surge in coronavirus cases, possibly around 100,000 a day, as restrictions are lifted.
Speaking at Prime Minister's Questions, Mr Johnson said it was "certainly true" there was a "wave of cases because of the Delta variant" of the virus.
"But scientists are also absolutely clear that we have severed the link between infection and serious disease and death," he said.
"Currently there are only a 30th of the deaths that we were seeing at an equivalent position in previous waves of this pandemic."
However, on Monday the government's chief scientific adviser Sir Patrick Vallance was more cautious, saying vaccines had "weakened the link between cases and hospitalisations, but it's a weakened link, not a completely broken link".
Wednesday's daily figure for COVID cases in the UK is above 30,000 for the first time since 24 January. In terms of hospitalisations, England is seeing more than 330 admissions a day on average at the moment. The most recent day – Monday – saw 416 admitted.
As of Wednesday, 2,144 people are in hospital in England with COVID – the first time this figure has topped 2,000 since April. The PM has also defended the timescale for ending self-isolation for contacts of COVID, insisting it is a "sensible approach".
The government has said people who are fully vaccinated will not have to self-isolate if they come into contact with someone who has tested positive for COVID-19 from 16 August.
Giving evidence to the Commons Liaison Committee, Johnson rejected the suggestion 16 August had been chosen because it was when the government expected the population to have reached herd immunity .
"That's not the consideration… it's the time by which we feel that there will have been much more progress on vaccination," he said.
And the PM said to do it any sooner would "effectively be allowing many more people to be vector of disease."
"All decisions are a balance of risk," he said.
Asked how many people the government expected to end up self-isolating over the next month, he said: "That will depend on the spread. I haven't seen any data on that. It will depend on the numbers."
Meanwhile, World Health Organization emergencies director Dr Mike Ryan has urged countries to use extreme caution when reopening their economies from Covid restrictions so as "not to lose the gains you have made".
Asked at a briefing if the UK was aiming for herd immunity, Dr Ryan said: "I'm not aware that that's the logic driving our colleagues in the United Kingdom, I suspect it's not."
He said the argument that it was better to infect more people was morally empty and epidemiologically stupid.