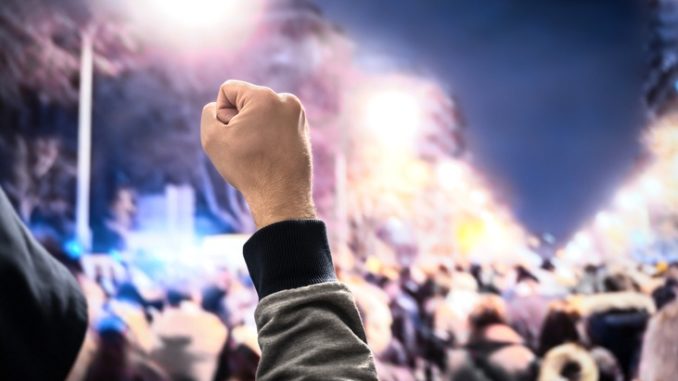 Faced with the threat of losing their local GP practice, the villagers of Byfield knew that they had to make a stand
This is an edited version of an article which first appeared on the Daily Mail.
Around 400 – almost a third of the village's population – descended on a meeting where councillors were to discuss the surgery's predicament.
It led officials to call in police to deal with scenes of 'utter chaos'.
But people-power succeeded in winning a delay on a local authority planning decision that could result in the practice's closure.
As well as the 1,300 residents of the Northamptonshire village, Byfield Medical Centre also serves another 34 villages and hamlets, including some in neighbouring Warwickshire and Oxfordshire. If the practice closes, residents face either a ten-mile journey to Banbury or eight miles in the opposite direction to Daventry in search of a GP.
Glenys Smith, landlady of Byfield's Cross Tree Inn, was among the 'rowdy' crowd who turned out to support the existing surgery's plans to relocate to a purpose-built new site on the edge of the village.
She said: 'There was only space for a few dozen villagers to be admitted to the meeting.
'I was among the hundreds left outside. Feelings are running high over this – Byfield is an old community so it is vital that it has a GP surgery. We can't expect those who can't drive to be taking 25-minute bus rides to the towns whenever they need to see a doctor, especially as there are rumours that the service to Daventry might be axed in the summer.
'I'm 100 per cent in support of the new surgery.' Byfield Medical Centre was built in 1982 to serve 4,000 patients, but the number on its roll now stands at 8,300.
The surgery has lost two of its four GP partners during its two-year battle to relocate, and has been unable to recruit replacements because of its 'cramped' conditions and high patient numbers.
A local landowner has given the surgery a one-acre site with a covenant that the land must be used for development of a medical practice, as well as the promise of £1.25million towards the cost of the new building – to be funded by the proposed sale of neighbouring land to a housing developer.
But planners at Tory-run Daventry District Council have recommended that the surgery's outline application for the new site, and the associated 78-home housing development, be turned down.This is due to concern over access arrangements to the new houses, and the potential impediment to views of open countryside.
However, the surgery warns that without a new building to move to, the existing premises will ultimately have to close because staff 'cannot cope' with the volume of patients and lack of space.
Dr Rob Harvey, a senior partner at the surgery, said: 'If we cannot secure a new building the centre will close, meaning that all 8,300 patients will have to access GP services elsewhere.'
Practice manager Tracey Rymer added: 'We tend to offer most of our appointments on the day, so that those who are in most urgent need can see a doctor.
'They go live at 8am – online and by telephone – but by 8.05am they've all gone.' She said the surgery was part of a rural primary care network of five surgeries – including a new one at Brixworth – which was also built in conjunction with a new housing estate.
Almost half of Byfield's patients come from the neighbouring village of Woodford Halse, which has grown rapidly over recent years.
She said the two remaining partners at BMC would take out a mortgage to cover the balance of the cost of building the new surgery, estimated to be around £2million in total. Nearly 2,000 residents have signed a petition supporting the plans.
At Wednesday night's local authority meeting, councillors deferred a decision on whether to follow their planners' advice and refuse the application.
It comes as GPs are abandoning their practices in huge numbers, with morale said to be at an all-time low. Some 270 GP practices closed in 2018/19, taking the number of surgeries to the lowest since records began in 1995. There has been a fall of more than 1,000 GPs in England since 2015.
Byfield Parish Council has objected to the application on grounds including fears over flooding, traffic impact and the site's location outside village confines.
Don't forget to follow us on Twitter, or connect with us on LinkedIn!