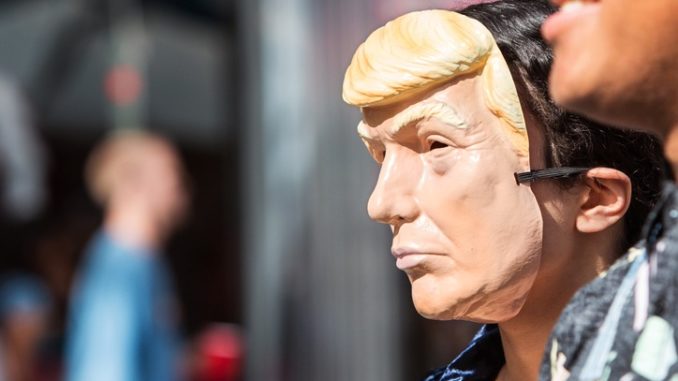 The US healthcare machine raked in $100bn last year – and CEOs are salivating at the money they could extract from British patients
This is an edited version of an article first published by The Guardian.
As has been widely reported, if the Conservatives win the British election, a potential trade deal with the United States could put vital parts of the NHS at risk of privatization. "I think everything with the trade deal is on the table," Donald Trump has remarked. "NHS or anything else … everything will be on the table, absolutely."
Those of us across the pond are horrified on the UK's behalf. Don't let Trump and his cronies carve up the NHS. Vote and fight as if your life depends on it – because it does.
A jaw-dropping 34 million Americans say a friend or family member died because they were unable to afford medical treatment. That's what it means for the health services to be 'on the table'.
Given the high stakes, it's no wonder my social media feeds have been dominated by videos informing British voters of the horrors of US healthcare and the superiority of the British model. In one, which has chalked up over 20 million views, Londoners are stunned by the cost of routine procedures such as giving birth in a hospital. Their jaws drop when they hear the extortionate rates charged for prescription drugs. "So if you're poor, you die?" a young woman asks incredulously. The answer, too often, is yes.
I spent a few hours this week recruiting subjects for a contribution to this budding don't-follow-our-example video genre. My sister Nye Taylor directed a short video in partnership with the non-profit Democracy Collaborative. The title: A Warning from Americans.
The stories we collected were gut-wrenching. One woman's 22-year-old daughter died because the hospital turned her away for lack of insurance, despite the fact that her massively swollen leg was a sign of a deadly blood clot. Another woman spoke of her 45-year-old sister, long diagnosed with type one diabetes and rheumatoid arthritis, who ended her own life less than a month ago, in part due to her stress over constant negotiations with insurance companies that delayed or denied access to essential treatment.
And those are just the interviews that made it on screen. When we were recruiting, my inbox overflowed with unbearable tales of woe. One woman told of tens of thousands of dollars in medical bills that accumulated as the result of sexual assault. A devastated nephew wrote of an uncle who died by suicide after a cancer diagnosis so he wouldn't be a financial burden on his family. A young man confessed to going 15 years without seeing a doctor because he couldn't afford a visit. A woman said her partner had to pay $5,000 for some tests and an MRI, despite having "gold standard" insurance. And so on.
In America, the stress of paying for and managing healthcare in our expensive, inefficient, and incredibly confusing system leaves people demoralized and desperate. We work hard to pay for our insurance premiums, only to spend untold hours haggling with our insurers over the terms of coverage. Too often, an illness kicks off a downward spiral. Being sick means you can't work, so you lose your job; then you lose your insurance; then medical debts pile up; then you declare bankruptcy; next thing you know, you have lost your house. The inequity is obvious: the rich buy quality care, while the less affluent suffer, go bankrupt, or die.
"Because we've allowed, in this country, greed to reign, this is what's happening to us. Do not let that happen in the UK," James Fauntleroy says in the Democracy Collaborative video. As someone who needs three sessions of kidney dialysis a week to stay alive, he supports the Bernie Sanders wing of the Democratic party and is cheering Labour from afar.
His warning was clear: "Don't let [Trump] get his hands on your national healthcare system, because if he does, he'll do exactly what he did to this nation. Mess it up."
Don't forget to follow us on Twitter, or connect with us on LinkedIn!