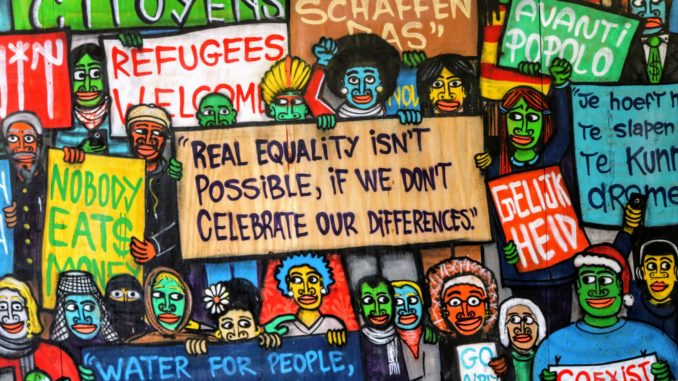 The right to health doesn't mean you're guaranteed free healthcare – but it is the right to the highest attainable standard of health. This means states must give equal access to the right to health for all of us. The right to health applies to everyone, no matter what their immigration status may be, says journalist Jenn Selby. She provides a timely reminder of the rights that asylum seekers enjoy in relation to healthcare
This is an edited version of an article that first appeared on the Rightsinfo website.
The government must have measures in place to ensure medical services and medical attention are given to everyone in the event of ill health. People who travel to the UK, for whatever reason, have just as much right to use National Health Services if they need to as any home citizen; this includes individuals who have travelled to Britain to seek asylum.
How do you define an asylum seeker?
An asylum seeker is someone who travels to another country for protection because they face persecution at home. Those seeking asylum may also seek humanitarian, or temporary, protection, including a claim under Article 3 of the Human Rights Convention because they fear serious harm, torture, inhumane and degrading treatment or punishment.

Unfortunately, a recent Equalities and Human Rights Commission (EHRC) report found that, when people seeking asylum get to the UK, they face several barriers in accessing public services like the NHS. What's more, asylum seekers are likely to have particular healthcare needs caused by the distressing experiences they may have faced, as well as the trauma of being made to flee a country.
What challenges do asylum seekers face in the UK?
The cost of prescriptions and treatment, as well as fears over their immigration status and discrimination, were amongst the issues the EHRC found which were preventing people seeking asylum – or those who had been refused it – from accessing the healthcare they desperately needed.
Many people have gone without medical help since ministers forced the NHS in England to impose up-front charges to access healthcare last year. Research was conducted by Imperial College London and Doctors of the World on behalf of the EHRC and highlighted experiences of asylum seekers – including concerns that they would be asked to give information to healthcare officials that would be passed on to the Home Office and, potentially, to the authorities in the home countries they had escaped from which had been responsible for their torture or inhumane treatment.
Speaking of her experiences, an anonymous asylum seeker said: "My husband was having blackouts and had a problem with his heart, but we were really afraid to go to the hospitals. We didn't know what would happen if we went there and they checked our application status. So there were times we decided to stay at home and not go."
UK asylum seeker
Healthcare professionals also lacked knowledge of the entitlement and eligibility of asylum seekers to UK healthcare. One individual who tried to register with a GP was told, "We don't accept refugees and asylum seekers, that is our policy." The only reasons a GP surgery can refuse registration are if the patient list is full or the patient provides proof of address outside the area it covers.
Some asylum seekers were worried that their health conditions – particularly those considered stigmatising, such as HIV or mental health conditions – would be taken into consideration during the asylum process. They also found it difficult to build trust in healthcare professionals if they'd had a particularly traumatic experience with migration.
Furthermore, information provided to asylum seekers about their rights to healthcare were not always accurate – or available in a language they could understand. Often, interpreters were not provided to those who needed them, and these individuals remained unaware of their rights.
What do asylum seekers need to know about accessing healthcare in the UK?
Here's a quick summary of the facts you need to know about rights to free healthcare for asylum seekers in the UK.
Everyone in England, Scotland and Wales is entitled to free primary healthcare and free emergency healthcare. This includes care at community facilities, GP surgeries, and mental health centres.
People can do so without the need to provide proof of address or identity. This includes registering at a GP surgery.
However, having one of the following will help to avoid delays and misunderstandings, the EHRC advises: an HC2 certificate, ARC care, documents from the Home Office showing that you have applied for asylum, a utility bill, or any form of identification that shows a date of birth.
An HC2 certificate should be provided to all those who have applied for asylum and been granted support by the Home Office. This shows that they are entitled to free prescriptions, as well as waiving any other healthcare costs.
Information about people's health can only be used to inform Home Office decisions about where they are placed to live (for example, a ground floor and accessible flat for a disabled individual) or support.
No application or asylum in the UK should be affected by an illness, or any treatment an individual may be having.
People also have the right to ask for an interpreter if they need one.
What information is available for asylum seekers?
There is a wealth of guidance and information for healthcare providers on the rights of migrants to access public services issued by the Government. This sets out how healthcare professionals at all levels should help asylum seekers -but what can an asylum seeker do if they are struggling to access health care?
The EHRC has not issued specific advice on what to do if an asylum seeker continues to struggle to access healthcare, but there are a number of charities and helplines which asylum seekers may reach out to. No matter what time of the day, anyone can call the NHS 24-hour phone service on 111; this call centre provides urgent health advice for free and doesn't require proof of identity.
Doctors Of The World run more than 400 programmes and clinics in over 80 countries. They have two clinics in the UK, in London and Brighton, which provide free medical care, information and practical support to asylum seekers, the homeless, sex workers and more.
The Patients Association campaigns for better health and social care for people in the UK and puts inclusivity at the heart of its values. Their national helpline provides specialist information, advice and signposting which will help in navigation through the healthcare system.
Refugee Action is one of the largest charities helping refugees and asylum seekers in Britain. They can act as a good port of call for help and advice.
Home-Start is a family support charity in the UK offering breastfeeding, post-natal and teenage support groups and advice through local meetings for parents. They also offer a specific service for refugees and asylum seekers.
Don't forget to follow us on Twitter, or connect with us on LinkedIn!