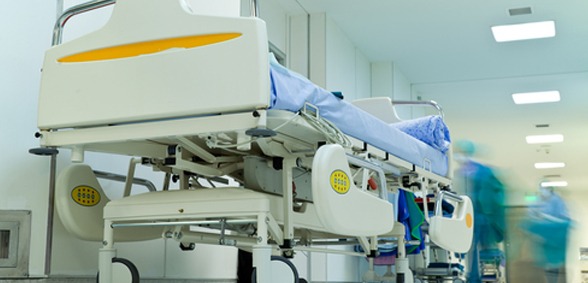 The NHS is already suffering enormous winter strain, with the vast majority of beds already occupied, according to the BBC
NHS England has released its first weekly report of the winter; results show that almost 95% of beds are already occupied.
Healthcare experts have warned that hospitals are in a 'red zone' as a result, as anything over 85% is deemed unsafe.
Some A&Es have even been forced to send ambulances away due to overcrowding.
An NHS England official said: "As the colder weather begins to set in, it's vital that the NHS and local authorities continue to work together to help people stay well and out of hospital wherever possible.
"The public can also help NHS staff by making sure they have their free flu jab if eligible and by using NHS 111 as their first port of call for non-emergencies."
Shadow health secretary, Jonathan Ashworth, commented: "Winter is only just beginning for our NHS and these are hugely concerning figures that don't bode well for the difficult weeks ahead."
Dr Helen Fidler, BMA consultants committee deputy chair, added:
"We are at the very beginning of winter and yet hospitals in England are already feeling the pressure, with demand reaching a record high for November as more patients attend and are admitted to A&E.
"Despite the milder weather, the number of patients waiting in hospital corridors on trolleys this year has already exceeded the total in 2017 – with the situation only set to get worse in the coming month.
"On top of this, November saw the number of patients discharged, admitted or transferred within four hours fall to 87.6% – a record low for the month.
"Last week we warned that 10,000 extra beds will be needed to guarantee safe care this winter, and with bed occupancy rates already topping safe levels, these latest stats should set alarm bells ringing for the government and health chiefs.
"Every year doctors are clear in their warnings about what to expect from winter, yet we see no progress. The system is under-resourced and under-staffed, and both patients and health workers are bearing the brunt.
"As politicians remain pre-occupied with internal politics and the mess that is Brexit, those working and being cared for on the frontline of our NHS are suffering because of a lack of action.
"And while we continue to wait to hear from the government on how the promised £20bn a year will be spent in the NHS, there is an urgent need to address these issues now so that patients get the care they need this winter."
Don't forget to follow us on Twitter, or connect with us on LinkedIn!