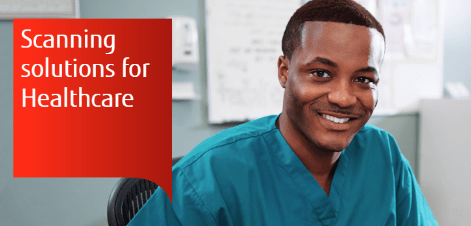 The deadline for 'axe the fax' has passed. Health secretary, Matt Hancock has officially banned the NHS from buying fax machines as April 2020 was the deadline for the phasing out of all fax machines throughout the NHS.
"Because I love the NHS, I want to bring it into the 21st century and use the very best technology available," Hancock stated. "We've got to get the basics right – like having computers that work, and getting rid of the archaic fax machines still used across the NHS when everywhere else got rid of them years ago."
Why is the NHS still using the fax machine?
The fax machine has been around for many decades and relies on the conversion of a scanned document into an audio tone which can be transmitted by a 'phone line, converted back into a document and then printed out. It is slow, inefficient, wasteful; it offers no audit trail and makes document sharing difficult. It is also costly, requiring a dedicated 'phone line, plus toner/ink supplies and paper.
With almost 9,000 fax machines owned by NHS hospital trusts, transitioning away from them is a monumental task. However, the April deadline was clearly not met by a large number of trusts, with September 2019 research suggesting that just 42% of fax machines had been removed.
The problem with change is that, without a suitable replacement process or transition plan, the easiest thing to do is continue as you were. Fax has become an integral part of the healthcare process for decades now, and the move to digital needs care, planning and training to make the transition effective, whilst at the same time delivering the raft of benefits promised by the new technologies.
Why is there so much paperwork in the NHS?
Healthcare generates many sources of paper-based information, including documents, x-rays, medical notes and patient records, as well as policies, reports and regulatory documents. Storing and managing all this paper-based information takes a lot of energy and space – not to mention the time taken to archive and retrieve these documents. Data security is also a great concern, with significant penalties for violation or loss of information, which could impact patient care.
How can we transition away from the use of the fax machine?
The implementation of document scanning could help NHS Trusts achieve significant cost savings and improved business processes whilst improving the quality of patient care. Through the scanning and digitisation of documents, paper-based information can be converted into a digital system accessed via computers, tablets and even mobile 'phones. With appropriate document management software, processes can be automated and accelerated, and access to data can be controlled and tracked to ensure the privacy of patient information and to produce more accurate audit trails for compliance. Digital data can be stored off-site, in the cloud, protected from fire, flood and theft, and the adoption of a document management system enables data to be shared and sent instantly, saving money and time on faxes, couriers and photocopying whilst reducing the chance of loss and damage.
Key benefits of digitisation include:
• Centralised storage for documents – with enhanced security, access control and instant retrieval and searching.
• Business process agility – leading to productivity gains and cost savings.
• Enhanced compliance with regulatory guidelines throughout all departments.
• Faster access to patient information – potentially leading to improved patient outcomes, better patient engagement and better access to critical information across the care continuum.
How do we digitise paperwork?
Fujitsu have a range of scanners, designed with the healthcare industry in mind, to aid the transition to digital. Their range starts with the Fujitsu fi-800R, which is a perfect desktop solution for GP and hospital reception desks, with a footprint smaller than a sheet of A4 paper. This tiny powerhouse can scan A4 paper at up to 40 pages per minute, plus ID documents, including passports, up to 5mm in thickness. The next scanner in the range is their ScanSnap iX1500, an easy to use scanner for speedy document capture, useful for everyday document scanning. For high volume scanning, Fujitsu offer the fi-7160. This is the number one, best-in-class scanner, designed for high quantity batch scanning and reliable performance.
Use of new technology in the NHS is advocated by the UK government
The UK government is now offering support for the modernisation of the NHS. Health secretary, Matt Hancock, has recently announced a new digital aspirant programme, to encourage the whole of the NHS to make use of the latest technology. "We're going to use digital technology to ease the burden on staff, give people the tools and information to manage their own healthcare, and make sure that patient data can be safely accessed wherever and whenever it's needed across the system," Matt Hancock said recently.
"It's quite simple: better tech means better health and social care."
Next steps
To find out more about Fujitsu scanners and document management systems, please visit www.fujitsu.com/uk/products/computing/peripheral/scanners/index.html or call 020 8573 4444.