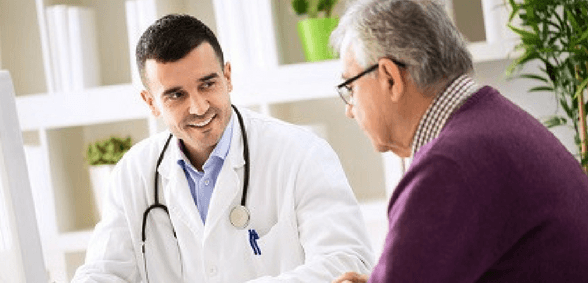 CREDIT: This story was first seen on The Daily Mail
The Daily Mail writes that doctors are unwilling to make urgent referrals for some suspected cancer patients because of pressure to reduce costs, a study suggests.
Interviews with GPs revealed many were afraid of being viewed by health bosses as having a high referral rate and were 'reluctant' to send patients to hospital if they had any doubts they had cancer.
The Birmingham University study also found a worrying lack of understanding among GPs about the seriousness of some 'red flag' signs of colorectal cancer, including persistent diarrhoea or anaemia in patients over 60.
Colorectal cancer is the UK's third biggest cancer but survival rates are lower than in other Western countries – which experts have blamed on delays in diagnosis.
The latest research sheds light on why some doctors might not diagnose cancer until the later stages.
The study was based on interviews carried out in 2014 before recent measures were introduced to crack down on GP referrals of patients to hospital.
Last month it was revealed NHS England has asked all clinical commissioning groups (CCGs) in England to ensure family doctors consult a panel of other GPs about every referral they make, although GPs will have the final decision about whether to refer.
For the study, researchers analysed data on over-60s who met the criteria for an urgent referral and then interviewed 18 GPs and 12 practice managers from practices in the Birmingham area.
One GP said: "They [the CCG] say, you know, budgets are very stretched and people are referring too much, referral rates are high."
Another said: "GPs are encouraged not to send patients to the hospital… if I referred all these patients with diarrhoea or anything, they [the CCG] would say that I referred 1,500 patients with all these problems and none of them have been diagnosed with bowel cancer. So they'd say my referral rate was poor."
The study's authors wrote: 'Although cancer referrals were not targeted by the CCG for reduction, the message of reducing 'unnecessary' referrals was often in the back of GPs' minds.
'This appeared to be reinforced by peer pressure: general practices aimed to be at or below median CCG referral rates in referral league table.'
Describing the pressure GPs were under, one said: "If it's costing us more, irrespective of every other thing, we don't do it. The emphasis has moved from benefits and quality of care more towards is it within our financial means."
Another added: "Nobody cares if you're not referring enough. Not referring gives a safe shield for the practice."
GPs also avoided making urgent referrals if they thought this would scare the patient unnecessarily or if they wanted to carry out further investigation first.
The study authors said: 'Red flag symptoms alone were not regarded as sufficient. Anaemia was often perceived as common and therefore not always warranting investigation.
'Because of lack of familiarity with referral guidelines, some GPs used personally devised decision rules and diagnostic strategies which hindered further investigation.'
They said that while changes to clinical guidelines since 2014 should have increased the number of urgent referrals, 'GPs' concerns about alarming patients and perceived external pressures from CCGs to reduce referrals directly undermine this strategy'.
Commenting on the research, Professor Helen Stokes-Lampard, chair of the Royal College of GPs, said: 'GPs are doing an excellent job of referring patients with suspected colorectal cancer earlier – and partly because of this, survival rates are increasing year on year.
"GPs will always act in the best interests of the patient in front of us – taking into account their unique circumstances.
"But we do face considerable pressure not to refer patients to secondary care, so it's unsurprising that some GPs are cautious about making a referral unless they are confident that a patient clearly meets all the necessary criteria.
"With many symptoms of bowel cancer being very common, and similar to conditions of other, non-life-threatening conditions – and with clinical guidelines, quite rightly, being updated frequently as new evidence is taken into account, making this decision is not straightforward."
Macmillan GP Advisor, Dr Sinead Clarke, said: "It's hugely concerning that this study suggests that GPs are deciding whether to send people for cancer tests with cost cutting in the back of their minds.
"We know GPs are under immense strain. Macmillan's recent report revealed that 44% of GPs and nurses surveyed said pressures meant cancer patients were not always being treated as early as they should be.
"Inadequate access to tests and treatment play a part in England's poor cancer survival rates, which are among the worst in Europe.
"To ensure this doesn't get worse, GPs must be given the vital resources and tools they need to provide the care that every cancer patient deserves."