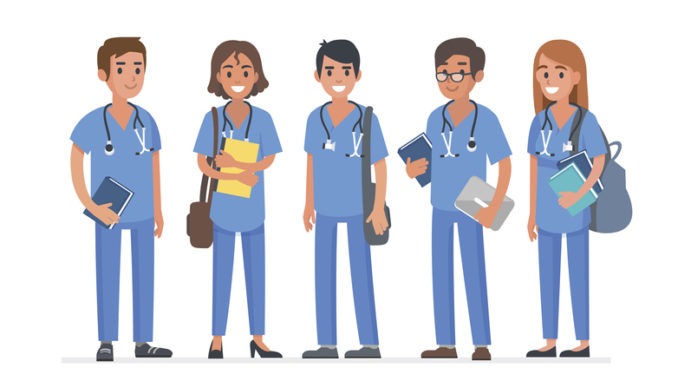 Key considerations to take into account if you have a student on placement in your practice
There are a few key issues that need to be addressed before placements start; these include:
Robust supervision and teaching arrangements need to be in place.
Risk assessment is critically important, and needs to be done in advance.
Access to personal protective equipment (PPE) appropriate to the clinical setting, but without affecting availability for other healthcare workers, is essential. Furthermore, thorough training in its use must be provided.
Information about well being support, ranging from mentoring through to access to childcare, needs to be provided for medical students.
Solutions to these key issues need to be jointly agreed and monitored by medical schools and placement providers; these must account for any local lockdowns, as placements may be impacted.
Availability of PPE
GP practices undertaking clinical teaching need to take all reasonable care to protect students from risk of contracting coronavirus. Students are under no obligation to place themselves in situations where they are exposed to unreasonable risk in order to be educated and/or to participate in care for patients.
If there is an unresolved concern which a student has expressed it may be necessary for the practice to offer leave of absence (which may extend beyond one academic year) until the risk has passed. If this is the case, the student will have to continue to have access to ongoing constructive support.
PPE requirements
Medical students should be provided with the level of PPE appropriate for the clinical setting they are in, according to PHE guidance; the risk assessment for this is not the responsibility of the student.
The PPE that is provided should be in line with the BMA's PPE guidance; the practice must consider equality implications, to account for concerns around fit or communication – such as:
FFP3 masks must be made available for those who must retain beards/facial hair for religious reasons.
Appropriate PPE for those who wear headscarves for religious reasons must be made available.
Transparent face masks must be provided for those who rely on lip-reading/facial cues.
It is important to recognise that patients, or other doctors, may need transparent face masks too.
Before starting the placement, the student should be trained in the use of the PPE, including how to don (put on) and doff (take off) this equipment.
Supervision of students
Supervision must be overseen by a fully registered doctor with a licence to practice. They must determine and provide what is required either personally or by arranging for one or more competent healthcare practitioners to supervise the student.
Isolating and the student's household
Students on clinical placements should be assessed as they may be isolating, vulnerable or high-risk, or living with people who are. Special measures need to be put in place for vulnerable or high-risk students, and may even require leave of absence, during which it is important that the student's support structures are maintained.
There are disabled students who do not fall within one of the categories of those considered particularly vulnerable to COVID-19, or who may have been shielding. These students will have specific support needs and will have statutory rights to reasonable adjustments.
Self-isolation and local lockdown
There may also be situations where students may have to self-isolate after returning to placement – they may have contracted COVID-19, or there may have been a local outbreak.
This would require a conversation between the student and their medical school about the detail of the student's competencies and progression, and whether the outcomes of the placement have been fulfilled or can be mitigated. The BMA will be able to support the student through this process.
Increased exposure to COVID
Students will be required to travel to and from clinical settings, either on public transport or lift sharing, potentially placing themselves at greater risk of being exposed to COVID-19 than would be the case had placements not resumed. This also has implications for the spread of the virus.
Placements need to be carefully monitored to ensure that the risk of contracting or spreading COVID-19 is as low as possible. This can be achieved by facilitating avoidance of public transport wherever possible, and by providing differential placement opportunities for those at higher risk, for example.
The BMA recommends that stability of clinical placements is ensured, and that students are not rotated rapidly between settings, to minimise the potential spread of the virus between them.