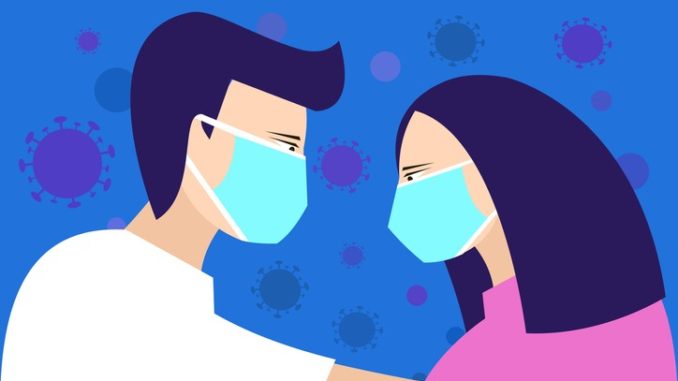 As the UK is being encouraged to self-isolate, and stay inside, we take a look at how to manage relationships when boundaries are tested in our new home offices, and when partners become new-found colleagues
CREDIT: This is an edited version of an article that originally appeared on Happiful
Whether your new home office has plenty of stretching space, or a little less square meterage, self-isolation and social distancing can be tough and, with schools closing, families across the UK are suddenly urged to be together 24/7, under one roof.
So we're faced with the stark irritants of our partners, in constant demand as parents, plus an adaptation to a new way of working – all whilst trying to maintain as much normality as possible. And, no matter how much we love our families, as human beings, maintaining boundaries and expectations of one another can sometimes be tested. So how do we manage this?
Counselling Directory member Beverley Hills shared her thoughts on navigating self-isolation with a housefull. "The thought of being thrown together under uncertain situations for an unknown period of time can be quite daunting – you're not only managing your own anxieties but feel you may well have to manage your partner's too. The boundaries become blurred and, if we're not careful, resentment and misdirected anger may ensue.
"In order to avoid this I would recommend drawing up a pact, a new contract, so that you are clear as to each other's wants and needs in stressful times; one of you may need more cuddles, or one may need less crowding, for example; how will you navigate this together?
"When living in a small space – this may be your bedroom, a corner of the living room, or even the car – the important thing is to renegotiate your boundaries to ensure both of you are heard in a healthy way."
Advice from the home-working Happiful team
Here at Happiful, we're lucky enough to be able to work from home so I chatted to the team (remotely!) about how they're finding their new offices and colleagues, and gathered their advice about this new way of living.
"If you have the space to work in separate areas, try to do that," says Lucy Donoughue, head of partnerships and contributing writer. "Chat at the beginning of the day about what you have coming up, and make a plan to get together for lunch. I like to end the day by both of us taking the dog out for a walk and, when we've done that, we come home, there's no more work."
Many of us love our homes, but the need for fresh air and open space is often a given. If you're purposely setting boundaries in your household, it's important to spend some quality together time outside – alongside respecting social distancing measures, of course. The National Trust is enticing us all out into the fresh air, with their announcement that their countryside and coastal locations remain open though they have closed all their gated parks and houses, shops and cafés.
And now that many of us are saving on commute time, those extra minutes open up new possibilities to get outside and enjoy the natural world – whether that's prepping for the day, or taking a breath at the end.
"As our office is now our living room, my partner and I both work hard to respect each other's space by wearing headphones and keeping quiet while working, stopping now and then to check in with each other and get coffees/teas," Kat Nicholls, one of our senior writers, says. "It's easy to get so wired you forget to move, so it's nice to have someone to check in with. We're going out for walks at lunchtime together, and I'm going to the bedroom after work to decompress alone for a while."
"I'm lucky enough to have nabbed the spare room, so my partner and I are not really crossing paths!" Ellen Hoggard, content manager, tells us. "We're making sure to have a little chat in the mornings and at lunch – treating it the same as we would if we were out at work – but also taking time to ourselves too – I did some yoga this morning and James listened to an audiobook; benefits of no commute."
Often something we take for granted, Beverley says that space is a key factor in harmony. "Space is more important than we think and, when that is denied us, the haven that is our home can easily become our prison.
"I like to advise my clients to designate a safe space; somewhere you can go and be assured of a bit of 'me time' – somewhere where your partner knows not to interrupt you; ensure that they, too, have the same privilege." "James and I have finally found a balance, picking which one of us will be banished to the dining room while the other gets the office each day," Bonnie Gifford, senior writer, says.
The latest feel-good doing the rounds on Facebook is the creation of the 'fake' work colleague! If you find yourself struggling to keep harmony with your partner as a colleague and their work habits, invent yourself a Brenda or Colin…"That Brenda, leaving dirty mugs on the side again!"
So, hey, if all else fails, there's always Brenda (or Colin) to blame!
Don't forget to follow us on Twitter, or connect with us on LinkedIn!