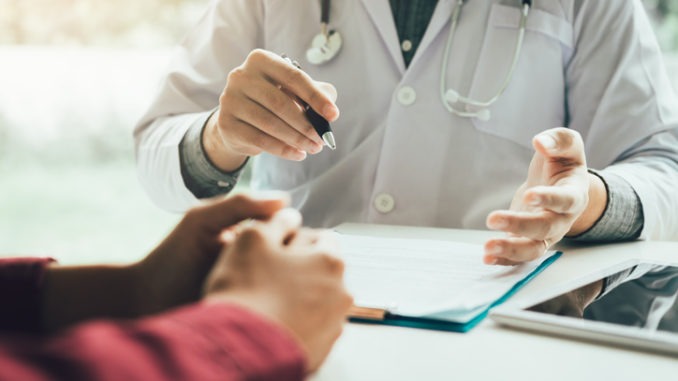 As reported by BBC News, GPs in England are being told to see more patients face-to-face as ministers unveil a £250m winter rescue package
The emergency funding is being handed to GPs so they can recruit extra locum staff with an emphasis on providing more same-day appointments. Social distancing rules are also expected to be relaxed so that GPs can bring more people into their buildings. It comes amid mounting criticism about the fall in face-to-face appointments since the start of the pandemic.
Only 58% of patients were seen face-to-face in August – the first full month following the ending of restrictions. That compares with 54% in January and more than 80% before the pandemic. Patients have also complained of long waits on phone lines to book an appointment.
The £250m funding is part of the extra £5bn COVID fund announced last month to help the NHS through to the end of the year, and comes on top of the £12bn set aside for GP services this year. Alongside locum doctors – doctors who stand in for others temporarily – GP practices will be able to use the money to recruit other temporary staff such as physios and podiatrists.
The announcement is part of a wider joint government and NHS England plan for GP services, which will be published on Thursday. It is expected to promise upgrades for telephone systems, ensuring more patients can quickly and easily speak to general practice staff, and a reduction in paperwork by allowing other staff to provide evidence for fitness to work and fit-to-drive checks. GP surgeries will also be named in league tables if they are judged to have failed to provide an appropriate level of "access".
Health secretary Sajid Javid said: "I am determined to ensure patients can see their GP in the way they want, no matter where they live. I also want to thank GPs and their teams for their enormous efforts in the most challenging times in living memory.
"Our new plan provides general practice teams with investment and targeted support. This will tackle underperformance, taking pressure off staff so they can spend more time with patients and increase the number of face-to-face appointments."
The health secretary denied a suggestion he was "stirring up anti-GP rhetoric" with the announcement. Javid told BBC Breakfast the new winter package followed feedback from GPs.
"What they have also been under, especially over the last two years, is an enormous amount of pressure… This is about providing more support."
Javid added: "Most people find it had to see how a quarter of a billion pounds of extra funding, how changes in red tape they have asked for, how getting pharmacists to take some of the workload, how that is not going to help GPs in what they love doing best, which is seeing their patients."
But Dr Richard Vautrey, of the British Medical Association, said he was "hugely dismayed" with the package. "It offers very little and shows a government out of touch with the scale of the crisis on the ground."
He said patients would "continue to suffer" and find it harder to book appointments.
"It is disappointing to see there is no end in sight to the preoccupation with face-to-face appointments."
He said in-person appointments were still a key feature of GP care but the pandemic had proven phone or video consultations were "entirely appropriate and appreciated" by many.
The rescue package comes amid the government's ongoing struggle to increase the number of GPs. Over the past five years the total – in terms of full-time posts – has fallen despite successive government drives to increase numbers.
The struggle to access GP services has been highlighted by the Royal College of Emergency Medicine as one of the factors behind the high levels on A&E attendances. The NHS will publish the latest figures, covering the month of September, for those later. But during the summer, waiting times reached their worst-ever level since the four-hour target was brought in in 2004 – with nearly one in four people waiting longer.
NHS Providers, which represents health bosses, said its members were particularly worried about A&Es alongside mental health and cancer services. Deputy chief executive Saffron Cordery said: "The NHS is fighting fires on multiple fronts as they try to recover care backlogs, increased demand for emergency care, treating patients with COVID and preparing for what is likely to be the most challenging winter yet for the NHS.
"In a matter of weeks, we will face our first winter where both flu and COVID are in circulation."