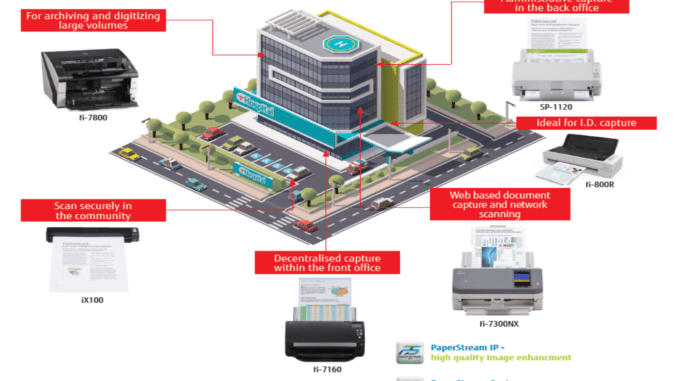 In numerous industries over the past few decades, digital records have been slowly replacing paper but across much of the healthcare sector, paper remains the primary means of recording and then storing patient information
There has and this has been accelerated due to recent challenging times become a need to look for ways to manage information more efficiently whilst at the same time ensuring the privacy and physical protection of patient information.
The paper-challenge
In a paper-based healthcare system, the time staff spend on manually maintaining patient records could be better spent on patient care. In addition to being a cause of wasted resources, paper can be a security risk if it gets mislaid, and its inflexibility compared to digital data, makes it a hindrance to the development of integrated care concepts, which are increasingly needed as populations age, or for chronic illnesses that need long-term management over time. If relevant information remains locked in paper format at a medical practice or has not yet been transferred between practices when a patient moves to a new house, it risks being lost, leading to a less than optimal integrated care plan being created.
The UK NHS example
In the UK, patients' paper records are often stored in A5-sized manila files called Lloyd George envelopes. These files contribute to a public healthcare system that is straining under the weight of paper but thankfully, the NHS is taking steps to move to a digital environment.
Digital information is much more easily shared than paper records. A great example of this is how, in the UK, heart surgeons have shared data on their individual outcomes for the last decade – leading to mortality rates in some procedures falling by a third, and around 1,000 fewer avoidable deaths reported each year. Most recently, it has been announced that NHS patient data will be shared between technology and pharmaceutical companies, researchers and clinicians, with the aim of boosting research by linking up health data and making it more accessible for research purposes.
Digitising paper records
The healthcare industry faces enormous challenges, including rapidly changing regulatory, financial, and technical issues. Electronic medical records (EMR) systems help in addressing these challenges, but organisations should also consider electronic content management (ECM) scanning solutions, for even greater improvements in practices and processes. Converting archival and working records from paper to a digital format enables healthcare organisations to reduce their admin burden, cut costs and begin to harness the value they contain. Electronic data capture is the vital first step in helping to manage the data ingest from paper, and smart scanning solutions should be a key component of digital transformation strategies within healthcare. When the information stored in physical formats is digitised, it becomes searchable and cross-referenceable, meaning it can support big data analysis for improved research, and – when data capture is done using optical character recognition (OCR) software to allow the automatic extraction of key data points – it can form part of AI implementations. Imagine a scanner acting as the point of input, feeding a database that the AI works from in order to understand patient and population health changes over time, and identify trends.
In addition to improving the quality of healthcare, implementing document imaging can help healthcare organisations achieve significant business efficiencies and cost savings. With a digital workflow, processes can be automated and accelerated, and access to data can be controlled and tracked to ensure the privacy of patient information and to produce more accurate audit trails for compliance. With data stored off-site in the cloud and other back-up locations, it is protected should there be any type of data storage disaster. Finally, and this almost goes without saying, from photocopying to couriers, sending a document electronically saves on money, time and resources, and reduces loss.
With data the lifeblood of modern healthcare, digitising paper health records results in a significant decrease in record administration, and an increase in positive results from more efficient information sharing and ultimately enabling physicians to help more patients. 
SPONSORED: This is a sponsored article published on behalf of Fujitsu. For more information on Fujitsu please visit http://emea.fujitsu.com/scanners or contact us at [email protected], For editorial questions or comments please contact the Practice Business team at [email protected]