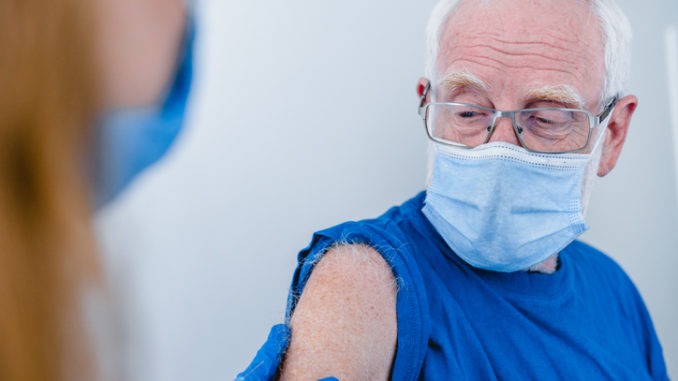 As reported by BBC news, NHS England's chief executive has said people in England are being vaccinated four times faster than new cases of the virus are being detected
Sir Simon Stevens told the BBC that 140 people a minute were now being given the jab, usually the first dose of two. But he said the NHS had never been in a more precarious position, with 75% more COVID patients than at the April peak.
Sir Simon told the Andrew Marr Show some hospitals would open for vaccinations 24 hours a day, seven days a week on a trial basis in the next 10 days. He said England was on course to deliver 1.5m doses this week. Scotland has delivered a total of more than 224,000 first doses, Wales has given over 126,000 and Northern Ireland nearly 118,000 – although Scotland and Wales do not report figures at the weekend.
Half of all over-80s have now been vaccinated, health secretary Matt Hancock said. "Each jab brings us one step closer to normal," he said.
Foreign secretary Dominic Raab told the BBC that the UK was making "good progress" in ensuring every adult was offered a vaccine by September and "if it can be done more swiftly, that's a bonus".
Sir Simon said hospitals and staff were under "extreme pressure", however. Asked if the NHS has ever been in a more precarious situation, he said "no", adding that the pandemic was a "unique event" in its 72-year history. Someone was being admitted to hospital with coronavirus every 30 seconds, Sir Simon said, and since Christmas patient numbers had risen by 15,000 – the equivalent of 30 full hospitals. It means there are 75% more COVID-19 patients in hospital than there were in the April peak, the NHS chief executive said.
Although there were promising signs infection rates were falling, he said they were still too high and rising in some areas and age groups, including the over-60s. He said the number of critical care beds had been increased by 50% since the first wave of the pandemic but a "very small number" of patients were still having to be transferred between regions when hospitals were full.
Asked about the ratio of nurses to patients in London intensive care units, Sir Simon said there were sometimes three patients for every nurse rather than the one-to-one ratio normally expected. But patients were receiving the "highest quality care possible".
About 53,000 NHS staff are currently off work due to the virus, he added.
Sir Simon said the health service would only be able to maintain the vaccination rate and "hold the line if people continue to do the right thing and prevent the transmission of coronavirus".
Vaccinating priority groups by the spring would not mean that "with one bound we are free" of coronavirus restrictions, he said. But he added: "I don't think we will have to wait until the autumn."
He said he suspected that there would be enough supply of the vaccine – "the crucial thing" – to begin lifting restrictions before then.
Sir Simon also warned that although starting with the most vulnerable groups reduced the risk of deaths, a quarter of hospital patients with the virus were currently under 55 – and therefore not a priority unless they have a medical condition that puts them at additional risk.
Asked about suggestions that some vaccination centres were having to throw away leftover doses, he said: "The guidance from the chief medical officer is crystal clear: every last drop of vaccine should be used."
Many centres were finding they were able to get six doses out of a five-dose vial, and Sir Simon said they should keep a reserve list of staff and high-risk patients who could be contacted to receive a vaccination at short notice.
Dr Rosie Shire from the Doctors' Association UK told the BBC that as well as sometimes getting six doses out of the five-dose Pfizer vials, they had also got 11 or 12 doses out of 10-dose AstraZeneca vials. But she said the uncertain dose count made it harder to know how many last-minute appointments to book in order to use up the supply.
Raab said that he was not aware of any delays to supplies from manufacturers Pfizer and AstraZeneca and said he was "confident we have the flexibility" to deliver enough doses.
"It is an enormous challenge. We are meeting it," he said. "But we take nothing for granted."
The foreign secretary said the risk that new variants could prove resistant to vaccines or more deadly meant the UK had to take the "precautionary approach" of requiring all travellers to quarantine on arrival from Monday, closing the travel corridors which previously been exempt.
"We don't want to find in two or three weeks time that our vaccine roll out is imperilled because we haven't taken the precautionary measures on travel corridors," he said.
Checks by Border Force on the passenger locator forms filled out on arrival would be increased, Raab said, as would the follow-up calls by Public Health England intended to ensure people were isolating for up to 10 days.
Asked whether the UK would introduce quarantine hotels to ensure people maintained their isolation, he said all potential measures were under review but there was a challenge in the "workability" of the proposal.