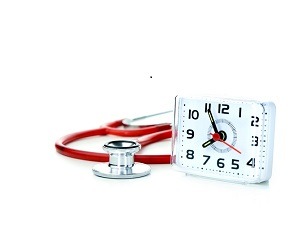 CREDIT: This story was first seen in the National Health Executive
Concerns about the waiting times at GP clinics increasing have been raised by doctors, after it was revealed that only 57.7% of patients felt that they didn't normally wait too long to see a GP, the National Health Executive reports.
On top of that, only two-thirds (68%) of patients said it was easy to get through to their GP surgery on the phone, a decrease of 1.9 percentage points since 2016. These are just some of the findings unearthed in NHS England's patient survey data for 2017.
However, there were a number of positives to take from the survey. The majority of respondents (84.8%) rated their overall experience at their GP as 'good' or 'very good'. And more than nine in 10 (91.9%) said that they were confident in their doctors and trusted them to deliver quality care.
But the survey also raised some concern in terms of accessibility of surgeries. Nearly one in five (18.3%) stated that they were unable to get in touch with their GP in the last six months due to the surgery being closed.
The RCGP said that the survey is a stark reminder of how major issues like the length of waiting times are affecting the quality of care GPs can deliver to patients.
"Our patients should be able to see a GP when they need to, so it's very concerning that more people are having to wait for longer to get appointments with their GP or practice nurse," said Professor Helen Stokes-Lampard, chair of the RCGP.
"It is particularly worrying that some patients are deciding not to seek medical advice at all if they are not able to get an appointment initially. Unfortunately, what we are seeing now is the result of a decade of under investment in general practice which has led to a severe shortage of GPs, and it is our patients who ultimately bear the brunt."
Prof Stokes-Lampard added that GPs were working flat out to provide care for as many patients as they possibly could, but there were limits beyond which doctors could no longer guarantee safe care.

"Despite the unprecedented workload and workforce issues currently facing general practice, our hardworking GPs and their teams right across the country will be heartened to see that 92% of patients continue to have confidence and trust in their GP, and are happy with the care they receive," she added.
"The results of today's survey show how much our patients value general practice and that our service must be protected. We need the pledges in NHS England's GP Forward View –  which includes an extra £2.4bn a year for general practice and 5,000 additional GPs – to be delivered as a matter of urgency so that our patients can see a GP when they need to and receive the quality care they deserve."