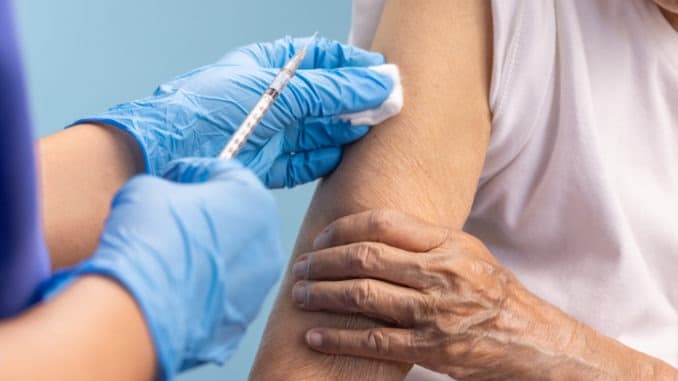 As reported by BBC news, a COVID vaccine has been offered to all older residents at eligible care homes in England, the NHS has announced
Prime minister Boris Johnson described the achievement, expected to be confirmed by official figures on Monday, as a "crucial milestone". A target of 15 February has been set for the UK to vaccinate care home residents and carers, people over 70 and frontline care workers. Nearly nine million people in the UK have had their first dose of a vaccine.
NHS England said more than 10,000 care homes with older residents had been offered jabs, although a "small remainder" of homes had visits deferred by local public health directors for safety reasons during local outbreaks. These will be visited by vaccinators as soon as NHS staff are allowed to do so, it said.
In Scotland, 98% of older people in care homes and 88% of care home staff have had the jab. Around 75% of care home residents in Wales have had their first jab, while in Northern Ireland the government has said 100% of care homes have received a first dose.
Meanwhile, the UK has ordered an extra 40 million doses of a vaccine from the French pharmaceutical company Valneva, which should become available later in the year and into 2022.
Johnson said vaccines were the "route out of the pandemic" but warned there will be "difficult moments to come" with the number of cases and people in hospital still "dangerously high".
Speaking during a visit to a vaccination centre in Batley, West Yorkshire, he said "virtually all" elderly care home residents had received their first vaccine or been given an appointment for it. He said he was "confident that we have the supplies" to ensure that people would receive their second jab within the government's 12-week timetable.
Social care minister Helen Whately said the vaccine had been offered to every care home in England where it was possible for teams to go in.
"Any care home that hasn't been contacted, just let me know and I will personally follow up," she told BBC Radio 4's Today programme.
Asked whether care home workers should be compelled to have the vaccine, she said "at the moment" the government was trying to educate, encourage and reassure people who had reservations.
She also said there were no plans to give care home residents their second jab quicker to allow visiting but the government was working on "what we can do to enable visiting" again.
Asked if care home visits would have to wait until residents had received both doses, she told BBC Breakfast: "I'm not saying that", before adding that "at the moment it's too soon" to allow indoor visiting as it takes time "to build up immunity".
On Saturday, a record 598,389 first jabs were given across the UK.
Care UK chief executive Andrew Knight said almost all the company's residents had been offered a jab and "the majority of our colleagues" had been vaccinated.
However, some care home staff have refused to have the vaccine due to "cultural issues", according to the National Care Association's executive chair Nadra Ahmed.
She told BBC Breakfast: "We have to convince people that this vaccine is for them. That it's for the staff to protect them and therefore protect the services they work in."
Sam Monaghan, chief executive of leading care home group MHA, said the government's decision to increase the gap between the first and second doses of the vaccines to 12 weeks had been "difficult" and he hoped the second dose could be accelerated "so that we can look at reuniting residents with their relatives".
He also called for the government to provide "clarity" on what would be possible in care homes once people have had both doses of the vaccination, adding: "People have been separated for such a long time."
Fiona Carragher, director of research and influencing at Alzheimer's Society, said it was "great" the milestone had been met but she remained concerned that the staff vaccination rollout "has not been nearly so effective".
"The most pressing question now is how and when can care homes restart safe, meaningful visits. Combined with PPE and testing, isn't one jab enough? If not, what else needs to be in place? Another 12-week wait is unacceptable for people dying of loneliness," she said.
Liz Kendall, shadow social care minister, said it was "very good news" that vaccines had been offered to all elderly care home residents but ministers "must leave no stone overturned to vaccinate all social care staff within the next two weeks".
Labour has previously called for teachers to be moved up the vaccination priority list and said February half-term should be used to vaccinate teaching staff.
The Joint Committee on Vaccinations and Immunisation, which sets which groups are prioritised, has said early vaccination of certain professions should be considered – but only once those in the top nine priority groups have been offered a first jab.