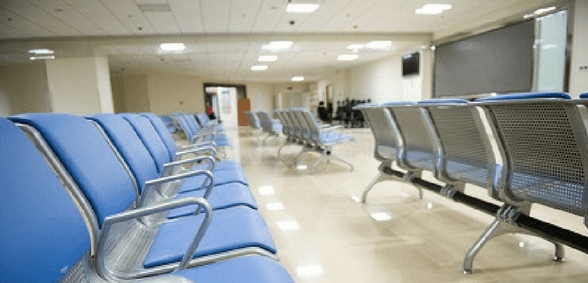 Tim Martin finds out how practice managers can ensure waiting rooms reflect the needs of their demographic, the benefits of displaying seasonal information and the advantages of modernising from a patient and business perspective. A number of PMs who are getting it right share their thoughts
Prioritising the patient
In an ideal world the perfect waiting room would be a serene sanctuary for patients, with reading materials resembling a local library accompanied by user-friendly check-in computer systems and quiet conversations part of the standard experience. Alas, opening practice doors on a Monday morning to a high number of demanding patients might put such aspirations into perspective. That's not to say that creating a pleasant waiting room is an impossible task – much can be done to achieve a welcoming and relaxing environment that satisfies both patients and clinical/non-clinical staff as well as inspectors.
The feedback of Practice Participation Groups (PPGs) will provide a basic line of enquiry with which to begin a review process of which waiting room patient improvements should be prioritised. Amy Louvaine, practice manager at Tenbury Surgery – a rural practice with a majority of elderly patients – says the need for greater privacy for patients was recently made clear from their PPG findings. "It was noted that people can hear other conversations going on because we have an open reception desk." Similarly, Emma Prince, practice manager at Littledown Surgery in Bournemouth, says that, during a six-week waiting room refurbishment in March, increased privacy at reception was prioritised. "We had a partitioned wall put in to stop conversations being audible and we knocked out the wall so we could have a proper reception desk. We did this mainly because, on the occasions patients in wheelchairs visit the practice, the high level hatch was proving inconvenient. So we had a much nicer reception desk put in with a low level area for people in wheelchairs and higher level access for the rest of our patients. It has really improved confidentiality."
Professional judgment is advised should patient feedback be more imaginative than initially expected. "When we asked our group of teenagers what would make our waiting room more pleasant for them they suggested comfy sofas, a soft drinks' machine and a computer terminal," says Rosemary Adams, practice manager, Welbeck Road Health Group. Implementing such requests would, it's safe to assume, only worsen obesity trends!
Passing on key messages
Displaying a variety of information aimed at an aging population is also worth focusing on because they are often the most vulnerable to seasonal changes and infection, as Amy points out. "We use health promotion materials showing how to keep warm in winter and other posters that ask questions such as: 'Do you have someone looking after you? Do you have a registered carer? Is there anything we can do to assist with mobility aids?' We also have a waiting room that is disability-focused with, for example, signage that indicates access to a hearing loop can be provided upon request." Having such a focused approach will also help communication via word-of-mouth, with patients able to pass on key messages to families and friends or, indeed, to tell them of new services that the surgery offers.
In-house inspections   
Preparing waiting rooms for rare but potentially dangerous events is essential for both patient safety and CQC purposes. "We have notices in the waiting room about washing your hands and we have effective policies on exceptional disease outbreaks too," says Amy. "For example, say there was a flu pandemic, controlling that within the surgery would mean putting patients into isolation; that type of safety can't be compromised. We had our CQC inspection in February and they were very pleased with our infection control and cleaning."
Aside from these exceptional circumstances, day-to-day maintenance matters shouldn't be overlooked, especially where they relate to compliance. "We previously had a firm carpet in our waiting room. It wasn't ideal from a hygiene point of view so we have had that replaced with a hard flooring which makes cleaning much easier, says Emma. "We have also replaced all of our seating with infection control compliant vinyl seating. Importantly, in relation to the seating, we realised that many of our elderly patients were struggling to get out of their chairs because these hadn't been fitted with arms. All of our free-standing seating has now been replaced with chairs that have arms."
From an inspection point of view it's clear that strategies to ensure compliance in waiting rooms must be prioritised but that doesn't mean flooring and chairs have to be nondescript; in fact, a welcoming environment will be preferred by CQC. "We were awarded dementia-friendly surgery status at Christmas time," Emma explains. "We tried to specifically bear in mind dementia-friendly aspects of facilities' improvement when we did our refurbishment – things like not having a dark doormat because people with dementia see that as a hole rather than something to walk on; we took that into account. We ordered our free-standing chairs in alternating colours because this makes them easier to distinguish for patients with dementia. We have a really big clock too."
Emma says forward-planning which builds on current successes with patients who have long-term conditions will help to ensure those who are most in need continue to be cared for compassionately and appropriately. From a business perspective, modernising facilities will also lead to healthier returns and potentially increase property value. 
NHS Practice Management Network suggestions for a healthy and relaxed waiting room environment
Patient comfort: Put yourself in the shoes of your patients. Why not sit for 5–10 minutes in your own waiting room and consider what might need updating
Colour: Choose colours that are cheerful, natural and inviting. Use colour therapy techniques – warmer tones can be a good choice whilst violet gives a calming effect and red is energising
Lighting: Make sure walkways are clearly lit, particularly if you have patients with sight loss
Music: Can help people relax before seeing the doctor. Request feedback about music preferences via a questionnaire
Reading material: Consider a range of newspapers and magazines. Make a named person within the practice (or PPG) responsible for checking the condition and relevance of magazines
Noticeboards: Revamp noticeboards and liaise with patients about what they think is needed
Seating: Consider rearranging the seating and separating the office from the reception area to improve confidentiality.
Don't forget to follow us on Twitter, or connect with us on LinkedIn!