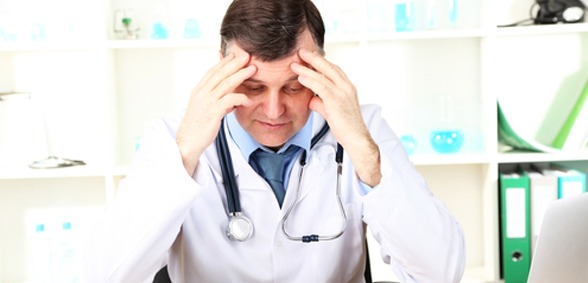 A report has found that 45% of doctors in the UK have considered resigning from their medical career due to concerns about their wellbeing in the face of increasing workloads
This is an edited version of an article first published by GPonline.
The Medical Protection Society's (MPS) report, based on a health and wellbeing survey of 275 healthcare professionals, also found that around a third (35%) of doctors had considered moving abroad to escape the pressures of UK practice.
Burnout is a growing problem within the healthcare sector. General practice is at particularly high risk. In April, GPonline reported that one in 20 GPs working in England had sought the help of a specialist NHS mental health service for doctors since October 2016.
Growing demands, job complexity, a faster pace of work and tighter financial constraints have been highlighted by the MPS as key factors leading to burnout within the medical profession.
The organisation has called for urgent action to tackle burnout and warned that the NHS risked 'even greater numbers of doctors becoming disillusioned' and quitting if nothing was done.
The report revealed that a culture of no breaks was a contributing factor to burnout. A quarter of respondents 'rarely or never took' breaks at work, while 68% said regular rest periods were not the norm.
This dissatisfaction extends outside of practice hours. More than half of doctors surveyed said they were not or not at all satisfied with their work/life balance, with 37% indicating there was 'no fair and equal approach' to policies such as flexible working.
Almost 40% said they did not get the support they need from their employer to do their job well, while 44% indicated they did not feel encouraged by their line manager/GP partner to discuss wellbeing issues.
A total of 58% of doctors reported that they did not feel like their personal wellbeing was a priority for their line manager or GP partner – although 64% of doctors did say they felt supported by their peers – suggesting that collaboration and peer support remain two of the best antidotes for burnout.
Don't forget to follow us on Twitter, or connect with us on LinkedIn!