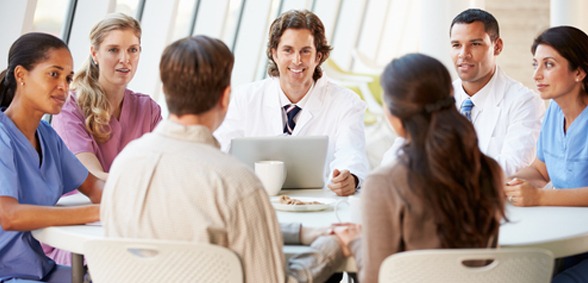 Credit: This story was first seen on On Medica
Wide scale recordings of patient consultations with their GP could help improve patient care and provide a useful database for research and training, suggests a study published in the British Journal of General Practice.
GPs in England see around one million patients every day in 7,800 practices, but understanding of what happens during these consultation is limited because of lack of recorded and accessible observations, On Medica reports.
However, obtaining high-quality video recordings of GP-patient consultations, linked to information about the patients and their practices, is challenging for various practical, ethical and logistical reasons.
Marcus Jepson, professor in primary health care and colleagues from the University of Bristol set out to create an archive of videotaped consultations and linked data based on a large sample of routine face-to-face doctor–patient consultations with consent for use in future research and training.
In their One in a Million study, the researchers approached 485 patients to seek their permission to take part in the study and 421 were eligible.
Of the eligible patients, 334 (79.3%) consented to participate and 327 consultations with 23 GPs at 12 practices were successfully taped – 307 on video and 20 were audio-only.
Most patients (300) consented to use by other researchers, subject to specific ethical approval.
GPs were asked to videotape (or audiotape according to participant preference) all consultations with consenting adults and all recordings were transcribed verbatim by a professional transcription service, anonymised for names and place names, and the content coded for problems and issues discussed using a published coding tool.
Participating patients and doctors completed questionnaires before and after each consultation and three months after the recorded consultation, the researchers gathered typed entries relating to the consultation and any related subsequent entries such as re-consulting with the same or another GP or nurse, an out-of-hours visit, or emergency department visit, were extracted from consenting patients' medical records.
The researchers successfully created an archive of recordings from the consultations and linked them to practice and GP data, plus pre- and post-visit data from patients and medical records, with permissions in place for reuse by other bona fide researchers. This archive is stored digitally in the University of Bristol Research Data Repository.
The electronic database created allows the data to be searched according to numerous variables at practice, GP, patient, or visit-level, with all data points linked to the index recordings, said the authors.
The authors said their study demonstrated that GPs and patients were willing to have their consultations recorded and linked data collected and archived for controlled future use.
The recordings held in the database would support a wide range of future qualitative, quantitative, and mixed-methods research, they argued, including studies of healthcare communication, proof of concept studies such as the development of new communication interventions, and methodological studies such as the development of new coding tools.
The researchers concluded: "Most patients were willing to allow their consultations to be videotaped, and, with very few exceptions, to allow recordings and linked data to be stored in a data repository for future use for research and training."