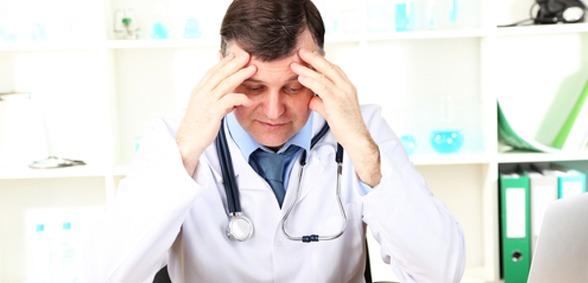 Credit: This story was first seen on On Medica
Nearly half of NHS workers say there are not enough staff for them to do their jobs properly, On Medica reports.
This is the finding of the 2016 NHS Staff Survey, published on the eve of the budget, by NHS England, and Picker, a not-for-profit organisation that runs the national survey programme.
The findings have caused concern from doctor and nurse leaders, who say the government is relying on the goodwill of staff to get by.
Some 47% of those questioned in the survey said there are not enough colleagues at their organisation for them to do their job properly, and three in five (59%) reported working unpaid overtime each week. Similarly, 60% of staff said they came to work in the last three months despite feeling too unwell to fulfil their duties, and most of these staff (92%) said that they put themselves under pressure to come to work.
In addition, one in six staff (14.9%) experienced violence from patients.
Dr Mark Porter, British Medical Association council chair, said: "These figures echo the concerns of our members who, as working doctors, witness the impact that growing staff shortages have on patient care every day. The government's poor workforce planning has meant that the NHS, already facing unprecedented pressure, is having to cope with huge and predictable staffing problems. Problems that will only be made worse if the underlying issues such as unprecedented workload, chronic funding shortages and dwindling resources are not urgently addressed."
He added: "It is clear from this survey, that the NHS relies on the goodwill of staff who continue to go above and beyond, often working long past the end of exhausting shifts, or ignoring their own health concerns and turning up to work when unwell. At a time when the NHS is at breaking point and we desperately need more doctors, it is worrying that four in ten EU doctors working in the UK, are considering leaving in light of the EU referendum with a significant number feeling less appreciated by the government.
"To ensure stability across the NHS and to prevent staff shortages across the NHS from worsening, the government must urgently provide certainty to medical professionals from the EU about their future in the UK."
The Royal College of Nursing described the survey results as "alarming".
Janet Davies, Chief Executive & General Secretary of the RCN, said: "This is another reminder for the government of how NHS staff across the board are straining to hold things together. NHS staff are its backbone and the Government cannot hope to keep getting by on their good-will."
She added: "The government must give the NHS the money it needs to keep patients safe and wards staffed at the right level. Ministers should offer nurses and health care assistants a pay increase that keeps pace with the cost of living and not another real-terms cut. Unless the government shows it values those working under immense pressure and taking care of patients when they are most vulnerable, people will be deterred from joining the nursing profession and others will feel no choice but to leave it."
However, Chris Graham, chief investigator for the survey, and Picker's Acting CEO, said the survey showed "encouraging results" for a number of key measures.
"Overall staff engagement has shown sustained improvement over the last five years, as has staff willingness to recommend their organisations as a place to work or receive care. These are very positive results and welcome good news for the NHS."
The survey was sent to 982,000 staff in 316 organisations. Some 423,000 staff responded – the highest response rate to date.
NHS Employers note the survey results showed improvements in areas such as the quality of appraisal, manager support, measures of staff engagement, health and wellbeing and confidence from staff in raising concerns.
However, levels of bullying and harassment remained 'unacceptably high', with the score falling very slightly from 24.8% to 24.1%, while levels of stress fell from 37% to 36.7%.
Danny Mortimer, chief executive of NHS Employers, said: "Despite incredible pressures on our workforce, their commitment and resilience shines through. Against all the odds, staff are generally feeling better at work and more confident in the care they provide, this is a tribute to them and the teams and managers they work with. The survey shows that efforts to improve the NHS workplace are being effective. The task going forward is to keep sharing good practice and to keep ensuring that national and local leaders listen to staff and provide the support they need to make it through this difficult period."