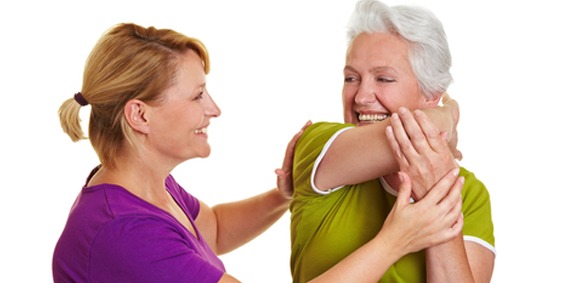 CREDIT: This story was first seen in OnMedica
GPs are being asked to promote and encourage use of a new app and campaign that will encourage middle-aged people to walk more often and quicker, OnMedica reports.
Public Health England has today published a review of evidencethat reveals more than 6.3 million adults aged 40 to 60 in England (41% of adults) do not achieve 10 minutes of continuous brisk walking over the course of a month.
The findings also revealed that people in the UK are 20% less active now than they were in the 1960s and on average, walk 15 miles less a year than two decades ago.
PHE is today launching its 'One You' physical activity campaign, which encourages adults to build 10 minutes continuous brisk walking into their day as a simple way to improve their health.
The campaign will launch with television, digital and updated web content from today.
As part of this campaign, the Active 10 app has been developed to show how much brisk walking a person is doing each day and how to incorporate more of it into their lifestyles. It can be downloaded from the iTunes app store (for iOS), Google Play store (for Android).
PHE said that taking at least one brisk 10-minute walk a day has been shown to reduce the risk of early death by 15%.
This 10-minute walk could contribute to meeting the chief medical officer's recommended physical activity guidance of 150 minutes of moderate to vigorous exercise each week, which is said to help towards lowering the risk of type 2 diabetes by 40%, heart disease by 35%, dementia by 30% and some cancers by 20%.
Currently, it is estimated that the lack of physical activity amongst adults contributes to around a sixth of deaths in the UK and is costing the NHS more than £0.9 billion per year.
Dr Jenny Harries, deputy medical director at PHE, said: "Walking to the shops instead of driving or going for a brisk 10-minute walk on your lunch break each day can add many healthy years to your life."
The Active 10 app has been endorsed by the RCGP and PHE said that GPs across the country should recommend it to their own patients as a tool to help them manage existing conditions and prevent the negative health impact of inactivity.
Dr Zoe Williams, clinical champion for physical activity and lifestyle at the RCGP, said: "As GPs, we're best placed to talk to people about how their lifestyles affect their health. Every GP should talk to their patients about the benefits of brisk walking and recommend the Active 10 app. It's the first free app of its kind and an easy, accessible way to make brisk walking a daily habit."
The app was developed by PHE in collaboration with the University of Sheffield, Sheffield Hallam University and the National Centre for Sport and Exercise Medicine.
It combines walking intensity and time, rather than just distance or steps, and helps people gradually introduce more activity into their daily routine, with goal setting advice and motivational tips.
Don't forget to follow us on Twitter, or connect with us on LinkedIn!