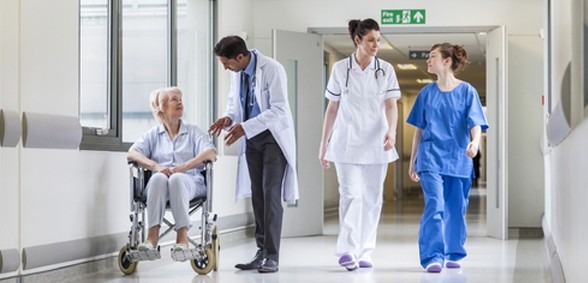 Credit: This story was first seen on On Medica
The head of the CQC has insisted healthcare leaders focus on how hospitals integrate with GPs and care homes, On Medica reports.
The regulator's chief inspector of hospitals Professor Sir Mike Richards said that where GP-hospital mergers have happened, they "have been very effective".
He was speaking on the publication of the CQC's latest report The state of care in NHS acute hospitals 2014 to 2016, in which it warned that 'the NHS now stands on a burning platform', with concerns over safety in some hospitals, and wide variation in quality between and even within hospitals.
This is the CQC's first focused national analysis since its new inspection programme began in 2013, and it has now completed inspections of all 136 acute non-specialist and all 18 specialist trusts in England.
It praised those hospital trusts that have been able to make practical changes to the way they deliver care, and are seeing improvements to patient care as a result. But it revealed that although the majority of hospital services are delivering good quality care and looking after patients well, inspections have also uncovered pockets of poor care even in good hospitals.
Professor Sir Mike Richards praised the overwhelming level of care and compassion by staff, and their unwavering dedication and commitment. But he said: "We have also found a wide variation in quality both between hospitals and between services within the same hospital. Safety remains a real concern, often due to a failure to learn when things go wrong. Strong leadership that instils a culture of learning and an environment where staff are listened to can play a vital part in bringing about improvements."
He went on to say that the model of acute care that once worked well cannot continue to meet the needs of today's population. He warned: "The NHS now stands on a burning platform – the need for change is clear, but finding the resources and energy to deliver that change while simultaneously providing safe patient care can seem almost impossible."
"What this report demonstrates, however, is that transformational change is possible, even in the most challenging of circumstances – we have witnessed it, and seen the evidence that making practical changes to the way that care is delivered can benefit patients … Moving away from an insular approach and actively sharing learning between organisations will be increasingly vital if the whole system is to move forward together."
He told BBC Radio 4's Today programme this morning that many A&E departments are struggling to cope with ever-increasing attendances, and that increased demand has created challenges for managing patient flow throughout other hospital departments and wards, often compounded by delayed discharges which are linked to problems in the wider system, for example a lack of capacity within community health services or the social care system.
He said the CQC sees a need for transformation and "for hospitals to work much more closely with GPs and with care homes". He went on: "We need to look at the way that hospitals are integrated with the community – with GPs and with care homes … we have already said that the care system is at a tipping point so we need to look at how the three work together – GPs, care homes, hospitals."
Questioned on why we shouldn't simply merge GPs and hospitals, and why they even need to be separate, he responded: "In some cases that is exactly what's happening. If you go to Northumbria, if you go to Yeovil, that is what you will find happening – and elsewhere as well. So this sort of merger is happening and I have to say where we've seen it happen it's been very effective."